Regardless the storage capacity of the HDD or HDD installed in the system never hurt to have at hand a "reserve" of free space - such as a external hard drive - just in case. For example, backups or resources. Or Tom and Jerry cartoons.
If you have such a hdd (ie external) that zlnic accustomed to use it for various reasons and that you want to access quickly whenever the need arises you will probably want to add to the Taskbar. Those who have already tried to do this using the 'traditional' drag & drop have already noticed that it does not work and drives the hard drive being added Windows Explorer Jumplist instead of taskbar.

How add an external hdd 7 Windows Taskbar?
The solution is simpler than you think:
open Notepad (New Text Document) Then give him what name you want (usb hdd, External drive, Storage etc.) and save it.
change the file extension . Txt in .exeThen confirm by clicking on And it is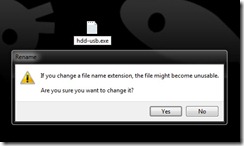 yes right-click on the file and select the newly created Pin to Taskbar Menu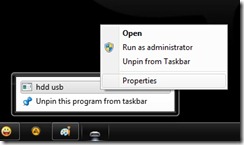 then right click on the file in the taskbar, then right click again and select the name of the original file in Jumplist Properties Menu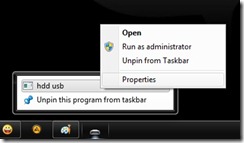 in tab shortcut change the way in the field of law target with a link to the external HDD (eg H :) or if you want to access rather one folder on hdd than the entire drive, the path to that folder (eg H: Backups)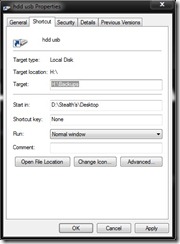 then (optional) click on Change Icon and select a new shortcut icon to the Taskbar
Click on OK and ready, you have a new shortcut in the Taskbar with which you can quickly access external hard drive.
Note: Valid only for Windows 7 editions.
STEALTH SETTINGS - HOW TO PIN A DRIVE TO taskbar (7 WINDOWS ONLY)
How can access an external hard drive directly from the Windows Taskbar 7