Among the major changes brought about by Microsoft system Windows with the launch Windows 8 were counted and giving up Start menu in favor of the Start Screen's and the feature Aero Glass (transparency). But as these changes mainly attracted negative user criticism, Microsoft has reintroduced Start Menu in Windows 10And if we take the presentation by this system 2 weeks ago (January 21 2015) in final version it looks like we will get back and transparency (At least for the Start menu)
In the latest version Windows 10 Technical PreviewBuild 9926, Start menu comes with a new interfaceBut it does not include the option to activate transparency. If you have no patience to final release system Windows 10 and you want to enable transparent to the Start Menu preview current version, you can do this with a Free utilities, namely Glass2K.
How can we add transparency to the Start menu in Windows NEVER Preview?
Glass2K is a utility launched a few years ago to help users Windows 7 to adjust level of transparency al Start menu and of TaskbarBut it works smoothly and in Windows 10 (At least in preview versions released so far). Using this utility, users Windows NEVER Preview transparency can enable both the Taskbar and Start Menu.
How does Glass2K?
download the application using download link displayed at the end of the article and run it (it does not require installation), then click on Save to enable transparency in the Start menu; in order to adjust the level of transparency the Start menu, use the key combination Ctrl + Shift + [0-9] (where [-0 9] is one of the keys 1 la 9; combination Ctrl + Shift + 1 will cause the Start menu to be completely transparent)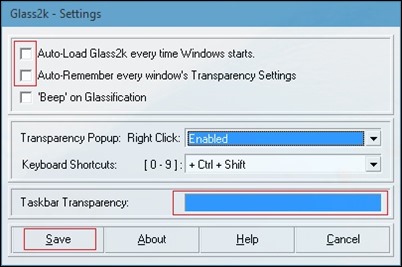 If you want to Taskbar transparency and enable, Run again Glass2KThen adjust the desired level of transparency displayed in the right bar Taskbar Transparency
also if you want the utility to automatically activate transparency Start menu and taskbar every time the system is started, check Auto-Load Glass2K every time Windows starts si Auto-Remember Every Windows's Transparency Settings
Note: Select Disabled from the drop-down appears beside Right-Click to disable transparency adjustment menu whenever you press right-click on a window.
STEALTH SETTINGS - How to enable transparency for Start Menu in Windows NEVER Preview
How to activate transparency in the Start menu from Windows NEVER Preview