When it comes to Windows 8Obviously the most interesting and talked feature it is The Start Screen, Greeted with enthusiasm by most users, but with skepticism by a not insignificant number of them.
One of discontent on the Start Screen is that although allowing some Customisation (Users can change background color using predefined colors the developers), users can not directly set the system custom backgroundsLike other colors than those already existing palette or images / photos.
If you want to customize your will after preferences Start Screen background in Windows 8 site, You can do this using the application Decor8.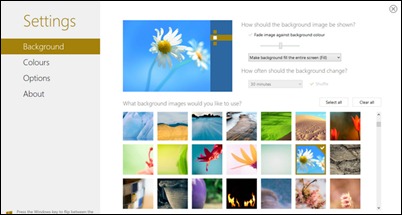 Decor8 is a free utility which allows you to set the background for Start Screen images and custom colors. It has a modern interface, Similar to panel customization of Windows 8, Easy to understand and very easy to use.
One of characteristics Those Decor8 most interesting it is that the application allows users to set multiple images as background (the same as in homework for Windows 7 si Windows 8), Which are displayed automatic si random from time to time.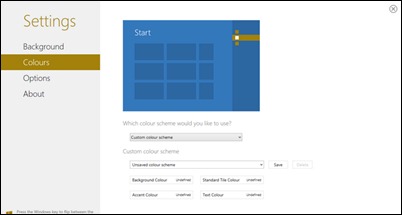 Decor8 extra features:
a choice of dozens of backgrounds available in application
the possibility to change the color scheme of the Start Screen and save it as preset
the possibility to select backgrounds image collection staff
the possibility to control / modify the number of rows of tile sites from Start Screen
Note: Decor8 is currently in beta and is available for free for a period of 30 days (after which the price will be $ 4.99).
credit @StarDock
STEALTH SETTINGS - How to customize Windows 8 Start Screen with custom images and colors
8 can customize how Windows Start Screen images and custom colors