Normally, after installing Windows 8, Background Start Screen's is dark blue. Although some users do not care what color metro interface of the system, and some may even like this color, surely there are users who either find it too dull, or do not like blue, or prefer another color. For them, the good news is that Windows 8 has and option to change background color in PC Settings.
If you are among those who often share the computer with other equipment users, And do not wish them to change background color for Start Screen set by you, you have two methods that allow you to Change Start Screen Background disable option available on PC Settings.
How to disable the Change Start Screen Background option in Windows 8?
The first method involves a change the system registry:
open Run (Use the key combination Windows + R) And type regeditThen give Enter to open registry Editor
key in the Registry Editor navigate to site HKEY_LOCAL_MACHINESOFTWAREPoliciesMicrosoftWindowsPersonalization
in the right pane, create DWORD entrants NoChangingStartMenuBackground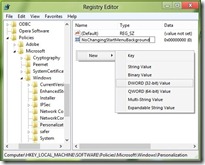 to disable the option to change Start Screen background to give the amount 1 newly created entry (right-click on it> Modify), Then let restart for the changes to take effect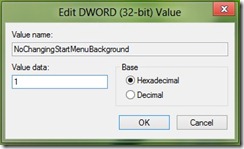 If you ever want to reactivate option, Change the value for the entry NoChangingStartMenuBackground back in 0 (This is the default).
The second method allows Change Start Screen Background off through Group Policy Editor:
open Run (Windows + R) And type gpedit.mscThen give Enter to open Group Policy Editor
in the left pane navigate to Computer Configuration> Administrative Templates> Control Panel> PersonalizationThen select entry Prevent changing start menu background in the right pane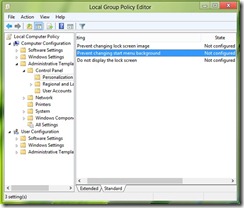 double-click it (or right click and select Edit) To open window settings
select Enabled to disable the option to change Start Screen background site then click on OK and restart your computer.
If you wish to reactivate Change Start Screen BackgroundFollow the steps described above, then select not Configured or Disabled.
STEALTH SETTINGS - How to disable Change Start Screen Background option in Windows 8
How to disable the Change Start Screen Background option in Windows 8