If you wish to initiate a video call on your computer with Windows and either do not have a webcamOr it is faulty (for laptops, at least), we have good news for you: if you have a mobile running Android, You can use chamber such devices as computer webcam with the help of DroidCam.
DroidCam is a free application, Available in both Windows version and in Android version (You need to install the application on the mobile device including). Through this application, users Windows can use a mobile running Android ca computer webcam.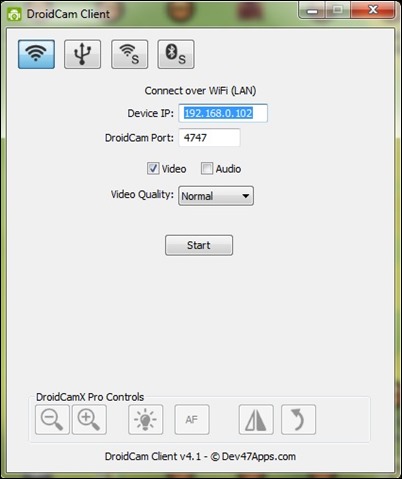 DroidCam puts users provide four types of connections to transform Android phone in webcam Computer:
WiFi Module - Users can use WiFi to connect your phone to your computer
USB Module - Users need a USB cable to connect the phone to the computer; This mode is recommended only if you do not have a WiFi router (In some cases requires Advanced Configuration because of the possibility of lack of drivers)
WiFi Module Server - This connection is only available for paid version of the mobile application (DroidCamX); through this way users can use connection 3G / 4G room to turn your mobile device into a webcam for any computer, from any location
Bluetooth Module Server - Similar to WiFi module ServerIt is also available only paid version mobile application DroidCam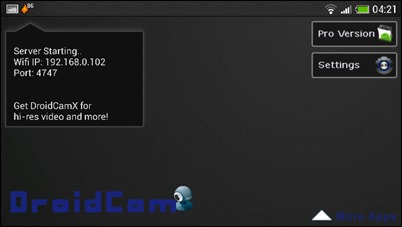 after installing DroidCam both on the computer with Windows and Android device, choose the way you want to establish a connection between them to use phone camera as a webcam. And after the connection is established between the computer and phone, you can use DroidCam to wear video calls with friends and family through applications such as Skype or any other application IM or VoIP which includes the service (modern application Skype for Windows 8 not compatible with DroidCamBut you can use desktop version the application).
Download version for Windows DroidCam.
Download version for Android DroidCam (Via Google Play).
STEALTH SETTINGS - How to use the Android mobile device as webcam for Windows PC
How can we use a mobile device that runs Android as a computer with webcam for Windows