Many users Windows have problems with reading various texts because small size a default fonts system (especially monitors size and very high resolutions). Fortunately for them, Windows 8.1 enables them to increase both font size and other system elements, so reading texts become not only possible, but also comfortable for your eyes.
Before large font size (And default text) in an operating system Windows 8.1Should note that the problem is not solved by changing screen resolution. If Reduce the resolution monitor, the text will be displayed larger, but this will affect how they will be displayed and other elements in the system (also lowering the screen resolution will have consequences on how the video files can be played on their quality) . Therefore, the to increase the size of fonts / texts and other elements in Windows 8.1 without compromising screen resolution must follow exactly the instructions below.
in Start Screen click on the tile Desktop
then, in Desktop, Give right click a free portion of it and select Screen Resolution menu displayed
in the open window, click on the link Make text and other items larger or smaller (It is displayed as the resolution settings)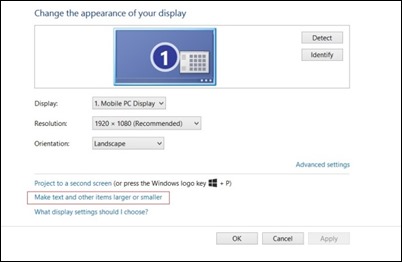 Then, to increase both text and other elements of the system, use slider displayed below Change the size of all items (Drag the slider to the right, all right and you will see a preview the modifications made)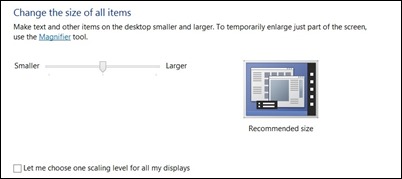 If you want to only increase the text size, Select the row of dropdown displayed below Change only the text size items for which you want to increase the size of text, then select font size for texts (default size font is 11); This allows keeping the default size for system elements, instead will increase the text displayed in them for easier reading

After you make the necessary changes to increase text and other elements in the system, click on Apply for them to take effect
Change text size and other system elements in Screen Resolution but no effect for Start Screen. If you want to zoom text size tile sites and applications from Start Screen you need to follow the steps below:
in Start Screen open menu Charms and click on SettingsThen on Change PC settings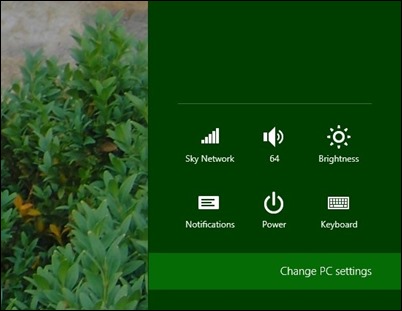 displayed window, click on PC and devicesThen on Display
in settings Display, On the right, under option More options displays a drop-down menu
select Larger to large text and elements from Start Screen
After you make this change, you will notice that items Start Screen (and texts of them) will be displayed at larger size (Which will make easier reading). Success!
STEALTH SETTINGS - How to increase size for text and app icons / tiles in Windows 8.1
How can we increase the size of texts and other system elements in Windows 8.1