I can happen to anyone accidentally delete an entire folder with bookmarks, regardless browser used either inadvertently or because of "disasters" natural (here we include in particular pet) or even intentionally, but then realize that even some bookmarks were important. for users Firefox, recover deleted bookmarks It can be very simple thanks backups made regular browser that are stored few days, and button undo provided by bookmark manager. Instead users Chrome must act immediately and make restoration manualBefore launching the browser again, otherwise deleted bookmarks are lost without any possibility to restore. Of course, there are variant handmade backupsThey can be imported back into the browser, but it often happens that they are outdated and not even contain all bookmarks that must be restored.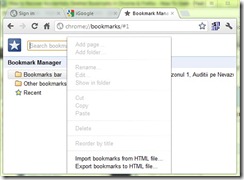 To restore deleted bookmarks in ChromeUsers do not need in any case to reopen a new session to avoid rewriting over bookmarks deleted. If Chome site was already closed, so leave it; if not closed, then close it and follow the steps below to recover bookmarks.
open Windows Explore and navigate to C: UsersNUMEAppDataLocalGoogleChromeUser DataDefault (where NAME is your user name)
bookmark folder that contains two files, Bookmarks si Bookmarks.bakWhere is Bookmarks.bak latest backup bookmarks, When did you last opened Chrome (if you place these files identified in two files called Bookmarks, go to Organize> Folder and search options> View and uncheck Hide extensions for known file Types; so you can identify Bookmarks.bak file)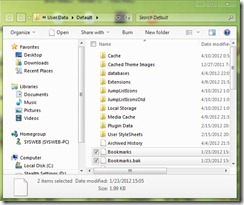 to restore deleted bookmarks, Bookmarks delete the file, and rename Bookmarks.bak in Bookmarks (before Chrome make sure that all sessions are closed). When you reopen Chrome bookmarks you will notice that they have a valuable restored deleted (any bookmark made after the last time you open Chrome will be lost).
Urilizatorii Firefox They can more easily recover deleted bookmarks using Bookmark site manager (or Library) By clicking on Organize and selecting the undo (Or using bookmarks immediately after deleting the key combination Ctrl + Z).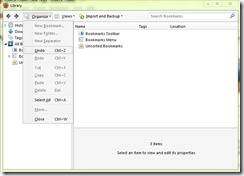 If bookmarks were removed a few days ago, then use the button Restore menu Import and Backup and select the backup that was made before deleting bookmarks (following this method, you replace bookmarks existing bookmarks from backup using any bookmark made after the backup is lost; to avoid loss bookmarks important use option Export Bookmarks to HTMLAnd after backup restore bookmarks containing deleted, imported HTML file created).
If you want to avoid such a situation, where you have to recover accidentally deleted bookmarks, you should make Regular backups their using the Bookmark manager, in this way, if there are errors in the browser or the system causing problems with bookmarks you can quickly import them back to the browser.
STEALTH SETTINGS - Restore accidentally deleted bookmarks in Chorme and Firefox
How can we recover accidentally deleted bookmarks in Chrome and Firefox