When searching on search engines in Internet Explorer or when opening various web pages typing their addresses in address bar browser or when introducing Users si passwords to make login various online accounts, The feature AutoComplete available in IE Save data inserted into the browser. Thus, if we later want to access that information again, they will be automatically filled from AutoComplete history.
The Internet Explorer browser feature allows users to effectively manage the AutoComplete depending on your preference, they can select what information to be Saved feature in the history of, or even remove all history stored thereof. If you want to Completely delete the AutoComplete history from Internet Explorer (Most likely because the privacy), You can do this very simply by following the instructions below.
How delete AutoComplete history in Internet Explorer?
open browser Internet Explorer and click on Settings icon displayed in the upper right corner of its
displayed menu select Internet Options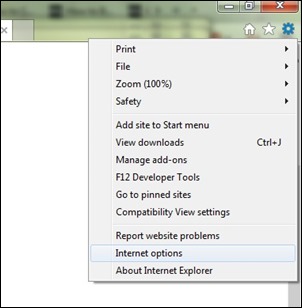 open window click on the tab happyThen, in section AutoComplete dti click the button Settings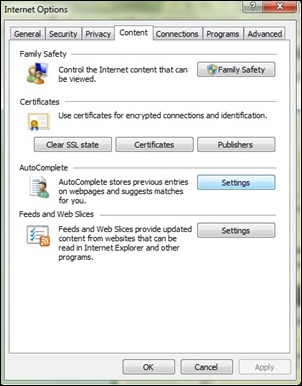 You can either set what information you want AutoComplete save in history (check or uncheck options displayed) or can completely erase history saved from this feature by clicking on the IE Delete AutoComplete history
And ready. In this way you can change what information you want to be saved by the feature AutoComplete in Internet ExplorerOr you can delete the complete recorded history of this feature to protect your privacy.
STEALTH SETTINGS - How to delete AutoComplete history in Internet Explorer
How can we remove AutoComplete history in Internet Explorer