You've probably noticed that for some time, Facebook displays News Feed the most interesting updates posted by your friends (or the pages you subscribe), or at least interesting from the point of view of Facebook. If some get more updates likes and are more comments than others, most likely those updates will be considered Top StoriesAnd will be displayed in news feed And your updates which are less esteemed, risk not be displayed at all Facebook in News Feed (this being why not get top stories). If you would like more like updates in the news feed to be displayed in chronological order, You can set this (but you will have to repeat this setting regularly because Facebook tends to activate the back display top stories After a certain period of time).
How can view updates on Facebook in chronological order?
When you use web version a Facebook (On computer) via website Facebook.comYou can set the display of the updates in chronological order as follows:
log on personal account de FacebookThen, in Home, Click on down arrow displayed in the right News Feed (Left sidebar of the page)
menu displayed, check Most Recent (Normally will be checked Top Stories)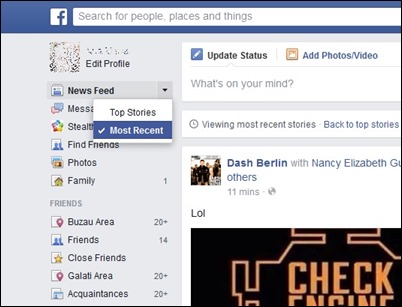 then Repeat this setting whenever Facebook will change back (without having to ask) displays Top Stories in News Feed.
Also, instead go to Facebook.com, copy and paste the next link in the address bar of your browser: https://www.facebook.com/?sk=h_chr. It will always display the updates in the order they were posted.
When you use Facebook via mobile applicationTo display updates in chronological order, please tap on Settings icon the application (the 3 horizontal lines displayed in the top right corner of the application), then under the category Feeds, Please tap on Most Recent.
No this option is not permanent (Last change of interface onwards was possible to set display the updates in the order of their posting by default), but you will need to access Most Recent every time you open Facebook mobile app to view the updates in chronological order.
STEALTH SETTINGS - How to display Facebook updates in chronological order
How can we view Facebook updates in chronological order