Often, when working with multiple applications or open many files si folders, WinXP begin to respond to commands very difficult because of high consumption of resources. Usually, free up resources by closing some of the applications / files to some extent solve the problem of motion replay system, but in some cases (especially if the computer has not been closed / restarted a few hours / days best) is required Emergency intervention of a restart (To restart processes and system services and processes to free resources "hanging" of some applications that ran between 2 resets). But what about when you need to work with files from several folders, randomly distributed on Hard Driveand computer starts react slowly and hang increasingly more often?
There Windows an option forces reopening / restore Windows Explorer windows (Ie folders) that were open before the restart. To enable this feature you just need to follow the steps below:
open a window Windows Explorer (Or any folder) And click on Organize (Upper left corner)
select Folder and search options Menu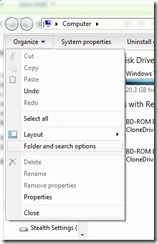 in folder Options click on the tab View and check the option Restore previous folder windows at logon
Using this simple, every time you have to give a restart all open folders before it will be restored after logon.
Note: Valid for Vista and 7. XP users can enable this option by clicking My Computer> Tools (in Menu bar)> Folder Options.
STEALTH SETTINGS - HOW TO RESTORE ON WINDOWS EXPLORER opened REBOOT
How to keep windows open Windows Explorer after Restart / Shutdown