Those who use frequently Internet browser OperaHave probably noticed that with the launch Opera version 11 for Windows, it appeared "by default"and icon "Opera" in system tray when you open your browser.

Until this version, Opera icon in the system tray was optional. Each user can enable or disable one of the browser settings.
How can remove icon from system tray Opera - Opera Disable System Tray Icon
If it bothers icon in the system tray, then you have to follow some very simple steps to get rid of it.
1. First you need to open your browser and Opera address bar (Bar where usually we type website addresses) to enter:
opera: config
Press Enter and will open "Preferences Editor". From here you have access to all browser settings. Much more than the offered menu.
2. In the search bar "Quick find"Type"tray"And will appear automatically option"Show Tray Icon". Uncheck the box next to it, then click"Save".
3. Close and reopen your browser to apply changes.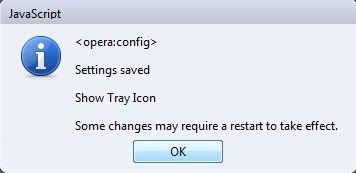 After rebooting you will notice that the system tray icon Opera disappeared.
STEALTH SETTINGS – OPERA DISABLE SYSTEM TRAY ICON.
Opera Disable System Tray Icon