All (or almost all) users Windows are more or less dependent on context Menu (right-click menu) Or it's applications of Links tool or file system, Or link-uri/url-uri. Want to know the properties of a file? Right-click and select Properties menu. Do you want to scan a file to check if "clean"? Right-click and select Scan with [Virus name] (antivirus name replaces the name antivirus installed on your system). Want to create an archive? Right-click the folder or file and select Add to archive. Would you open a file with a specific application? Right-click and select Open with. Want to open a link in another tab / another window? Right-click and select Open Link in New Tab / Window. And examples can continue.
In the past I have written several articles about how to enrich right-click menu, adding some custom optionsDepending on the preferences of each user (Take Ownership, Show / Hide file extension, Delete folder content, Context Menu tweaks etc..) using registry editor (Regedit), but editing registry is not an easy task and without risk given that a single mistake can be fatal for OS (So ​​it is recommended to make Back-up Registry before a change in regedit). An alternative for those who want to customize / modify the right-click menus but prefer not to complicate the system registry is 7CmenuEditor, or portable application (No installation required) to help users add (or remove) Context Menu options without opening regedit.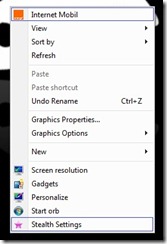 How does 7CmenuEditor?
The application interface is in fact simple and easy to use, divided into two sections, one for executables / applications and one for link-uri/url-uri.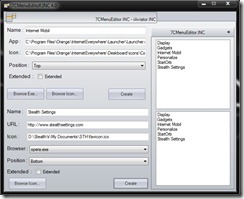 To add custom entries in Context Menu, choose a name for it first, then click on Browse Exe to select applications that you want to open the right-click menu or talking (Copy / Paste) favorite URLs, select browsers that you want to open each of them (you can optionally select a icon to appear in front of the entrance, on the menu), then click on Create. Once created entries, they will appear in the right panel. You can select where in the Context Menu appear new features / inputs (at the top, the middle or the bottom of the menu), and if you want to delete any menu entry, so right click> Delete on this in the application (or select and press enter key Share).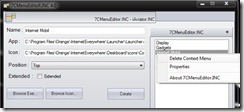 Note: The application must be rolled binding with administrator rights (right-click> Run as administrator). Compatible with Windows Vista.
STEALTH SETTINGS - Customize Context Menu WITH WINDOWS 7 7CMENUEDITOR
Customize the right-click menu (Context Menu) in Windows 7 using 7CmenuEditor