Although Windows 8 was released more than a year, and in October microsoft made public and the update Windows 8.1Many users do not feel ready yet to give up all the Windows 7, And prefer to keep it installed in the dual-boot cu Windows 8 / 8.1.
If you are among those who have installed dual-boot Windows 8.1 with Windows 7 and you set the main system Windows 8.1Most likely you noticed that when you want to restart your PC in Windows 7Lasts longer until operating system boot (When you select Windows 7 from boot menu, The computer restarts again before booting the system selected). While this is not necessarily a problem, users tend to frequently restart Windows 7 may find this behavior quite irritating.
How can we quickly restart Windows in Windows 8.1 7?
To Reboot System Functions is a free utility to help users fast restart of an operating system to another (when they are installed in dual-boot), without having to access the boot menu.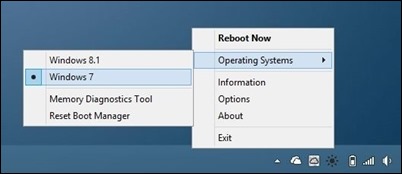 After it is installed, the application runs in system trayAnd whenever the user wants to PC reboot in the other operating system installed in dual-boot just need to click the icon To Reboot, To select the system that wants to boot from Operating systemsAnd then to click on the option Reebot Now. PC will boot the selected system more fast than if they had used the boot menu.
The application also To Reboot tool allows users to access the Windows Memory Diagnostic and reset Boot Manager PC.
Note: Application compatible with Windows Vista, Windows 7, Windows 8 / 8.1 (reboot and install). The application also allows restart in Ubuntu operating system (Wubi).
STEALTH SETTINGS - Quickly reboot from Windows 8.1 7 to Windows (dual-boot)
Quick restart of Windows in Windows 8.1 7 (dual boot)