I can consider myself lucky that I managed to install Windows 11 (Insider Preview) On MacBook Pro (13-inch, mid. 2012), without using any hack. I just installed it initially Windows 10 through Boot Camp Assistant, then I easily managed to upgrade to Windows 11.
Installation Windows 11 pe Mac it won't be that simple when Micorsoft launches Windows 11 for the general public, and most users wonder "how we will install Windows 11 pe Mac?".
Why can't it be installed Windows 11 pe Mac / Intel (Theoretical)
As we know, Apple provides installation support Windows pe Mac via Boot Camp Assistant. A utility that allows installation Windows in dual-boot, totally independent of the operating system macOS, but with drivers optimized for typical computer hardware architecture Mac. As a parenthesis, on a Mac you can't have it installed alone Windows, even if, as I said, it is independent. It must be macOS.
In older versions of Windows (inclusive Windows 10), users knew that they can be installed without problems on older computers and laptops, which they have run in the past Windows 7, Windows 8 or even Windows Vista or XP. With the launch Windows 11, Microsoft greatly restricts computer models on which the new operating system can be installed and places greater emphasis on user data security by introducing as hardware requirements TPM 2.0 and Secure Boot (UEFI).
In addition, Windows 11 can only be installed on a computer with at least 1GHz architecture 64-bit, 4 GB RAM, graphic support for DirectX 12 si 64 GB minimum free on storage space.
Regarding the installation Windows pe Mac, there are two factors that will do impossible to install Windows 11 on a Mac. Hardware and Firmware.
First of all, it will never be possible to install natively Windows (any version) on a Mac with M1 chip or any other generation of chip Apple silicone. Operating systems Windows are designed for Intel or AMD processor architecture.
Users who Mac or MacBook with Intel processors (be they of the newer generation), they will still be able to install on them Windows 10, but the hardware requirements of Windows 11 they will not be supported by them. And here we refer primarily to TPM - Trusted Platform Module - a chip for controlling and storing cryptographic keys, for which Apple does not provide support. No matter how new it is Mac (Intel), it will not support the TPM 2.0 standard, which it does incompatible with Windows 11.
Apple could take a step back and come up with a firmware upgrade to enable support for TPM 2.0, this is still unlikely to happen, given that Apple Quickly give up Intel processors on Mac, MacBook si iMac, in favor of their own chips (M1, currently) Apple silicone.
Especially since Apple to somehow allow the operating system Windows an alternative through the security subsystem Secure Enclave.
Users who managed to install Windows 11 pe Mac will continue to benefit from this operating system until it is released to the general public, then it will need to switch back to Windows 10.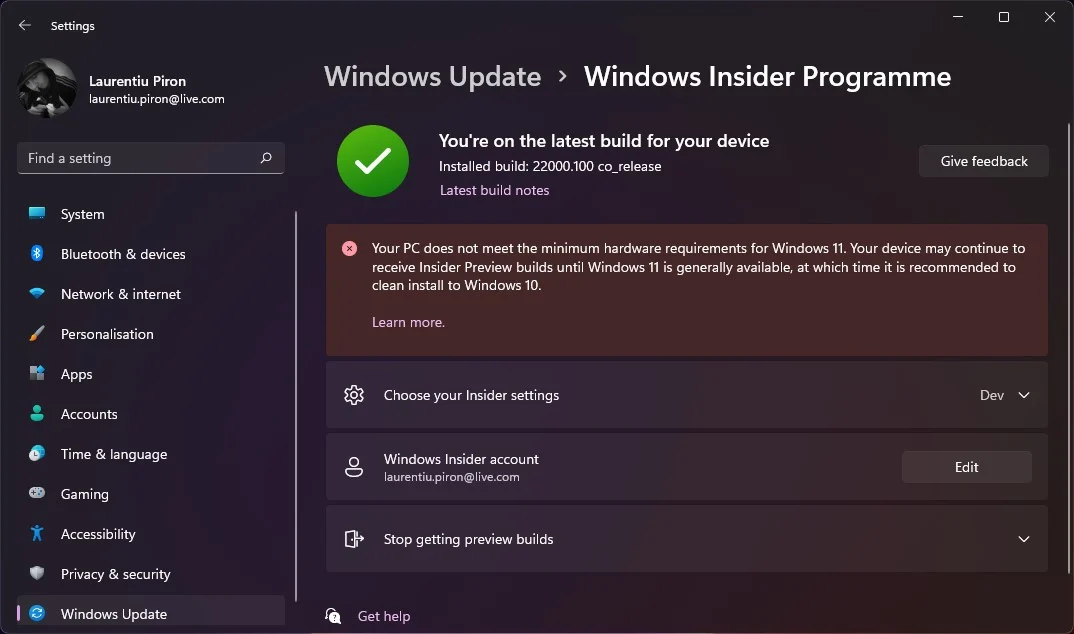 Your PC does not meet the minimum hardware requirements for Windows 11. Your device may continue to receive Insider Preview build until Windows 11 is generally available, at which time it is recommended to clean install to Windows 10.
For many users of Mac I don't think it's a big tragedy that it doesn't Windows 11 will not be present on Mac, but for many owners of computers and laptops bought after 2018 for not negligible amounts, which do not support TPM 2.0 and do not meet the hardware requirements of Windows 11. Many HP laptops are in this situation, but the problem also occurs with Asus, Acer and Lenovo.