I do not know if users Windows 7 would make a Taskbar and a Start Menu May transparent than allow theme Aero graphics (Windows Aero 7 Themes), But surely there are many who use Windows XP and I want to bring something in style Windows 7 si Windows Vista on this system.
application TaskBar Transizer help us do TaskBar and Start Menu transparent with just a few clicks, without having to install any theme or any program that consumes our resources CPU/RAM.
How we do the theme of Windows (Windows Theme) transparency in Windows XP.
1. Download the TaskBar Transizer application and run the file pxtaskbartrans.exe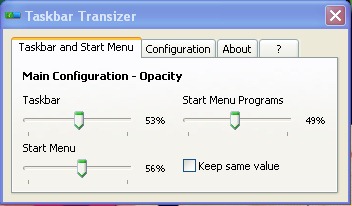 2. In "Taskbar and Start Menu"We choose the level of transparency for taskbar, Start Menu si Start Menu Programs (list of installed programs that have shortcuts in Start Menu).
The result: Windows XP Transparent Taskbar & Start Menu.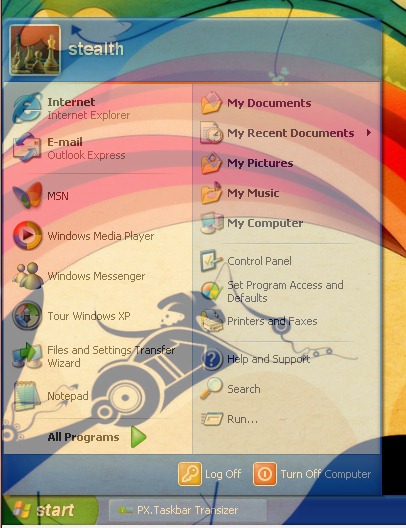 The result: Windows 7 Transparent Taskbar & Start Menu.
After setting the transparency level, we can close the application. The changes remain active until the system is restarted (restart). If we want the settings to be maintained, go to the tab "Configuration"Of the application and check the option "Load at startup".
Stealth Settings - Windows XP & Windows NEVER Customization.