2 at least twice a week make Cleaning house (or partners will vostrii: P). Vacuum, wipe dust, throw empty cigarette packs and order DVDs. But equally important is to clean houses to make Cleaning and computers. Temporary files, Hibernation files, memory dump files. All this occupy space alms in computers, in addition performance decreases them. Next you will say how to get rid (free: D) of these headaches.
1. Delete Temporary Files
You have two options at hand:
– Disk Cleanup Wizard (This will delete all files older than a week)
- Create a file batch (Delete all files, including the latest one week)
open Notepad and write the following lines:

cd C: Users% username% AppDataLocal
rmdir / S / Q Temp

file called cleantemp.bat and save it
double-click the file to delete temporary files

If instead will delete unwanted files error, Change % Username% the user with which you log on Windows. For the temporary files to be deleted automatically every time you start Windows, right-click and create a cleantemp.bat shortcut its in folder StartUp from Start Menu (ProgramDataMicrosoftWindowsStart MenuProgramsStartup).
2. Disable and Delete the Hibernation Files
When the PC enters hibernation, Windows save data to files located on your hard drive, so after "awakening" to PC reopen all applications which were running before hibernation. These files occupy a space equal to RAMSite. I mean, if you 512MB RAM, files will 512Mb, if you 2GB RAM files will have all 2GB.
If you do not use hibernation, you can delete these files, saving space that you can deal with things more interesting. :)
If hibernation is enabled, before deleting those files, need to disable. Open a Command Prompt (Start Menu-> Search-> type cmd-> Enter) and type the following command
powercfg-h off
close cmd and hit Enter. Hibernation will be disabled.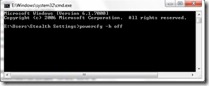 To delete the hibernation file, open disk Cleanup (Search using all your Start Menu), select the partition where Windows is installed and click OK. Displayed after scanning the list, check Hibernation File Cleaner and click OK again.
3. Disable Memory Dump Files
When the PCs 'crack' (single restarts or put in advancing much-too-known Blue ScreenSites), which creates so-called dump files. Since these files can be viewed causes for which computers clacheaza, but usually no one checks these files. Or those who do are very few. And the computer crashes more often, the more space is hard. : P
To deactivate Memory Dump files, Entered the control Panel, type Advanced Search bar in the upper right corner and select View advanced system settings. Click on Settings from under Startup and Recovery, Uncheck Write debugging information drop down and click OK.
If you wish to activate Memory Dump files again follow the same steps and check back option Write debugging information drop down.
Windows Performance: Cleaning out your PC