In this tutorial we will show you how to install Windows 11 pe MacBook Pro (15-inch, 2017 with Touch Bar) with macOS Monterey.
We know that with the launch Windows 11, Microsoft has limited this upgrade to many older PCs and laptops. Those who have no support for TPM 2.0 si UEFI (Secure Boot), theoretically they can't run Windows 11. By the way, Windows 11 is not compatible with any model Mac or MacBook, for Apple does not use computers with TPM 2.0 and UEFI architecture. Theoretical. Basically, with a few operations and patience, Windows 11 can be installed on any model Mac with Intel processor.
How to install Windows 11 pe MacBook Pro with Touch Bar
I know there are many tutorials that show some tricks with which you can do the installation, but for owners of MacBook Pro model with Touch Bar and with USB-C ports, it is impossible during the installation process Windows 11 pe Mac to make key combinations involving special "F" keys or to connect a wireless mouse with USB receiver. And as a bonus for everything to go upside down, Boot Camp Assistant pe macOS Monterey no longer allows the installation of Windows 10 using a Flash Drive (USB Stick). It was a trick through which files could be modified Windows 11 from the external source (flash drive), and thus the installation could be done. The trick remained valid only for macOS Catherine. Old models of Mac.
Let's see the steps to follow to install Windows 11 pe MacBook Pro
1. Download from microsoft.com ISO image operating system Windows 10
There is virtually no possibility to install Windows 11 directly with Boot Camp Assistant. The only option is to install it first Windows 10 and then upgrade to Windows 11. (At least that's what I did after many other failed attempts).
We go to the official download page of Windows 10 and download the ISO image of Windows 10 64-bit, on Mac. Preferably in the folder "Downloads"
2. Install Windows 10 pe Mac with Boot Camp Assistant
We open the utility Boot Camp Assistant pe macOS and follow the installation steps for Windows 10, using the ISO image downloaded in step 1.
We allocate ~ 90 GB for the operating system. Windows 10 64-bit requires a minimum of 20 GB of space, but for Windows 11 at least 64 GB is required.
Most likely in the process of installing Windows 10 you will not have Wi-Fi drivers to be able to connect to the internet (and I don't think you have any USB-C ethernet adapter at hand). Complete the installation process of Windows 10 pe Mac, and after starting the system run the Boot Camp utility on Windows 10 (it launched automatically for me) and wait for it to install all the necessary drivers, including Wi-Fi.
online Windows 10 via wireless internet and run Windows Updates.
3. Download the ISO image a Windows 11 64-bit
We go to the official page of download a Windows 11 and download ISO image. It is preferable to download it on a USB Stick so as not to take up space on the partition Windows 10.
4. Download the utility Windows11Upgrade
Windows11Upgrade is a free utility, without ads and other nonsense through it, which helps us to do bypass to the system requirements imposed by Microsoft for installation Windows 11. Download Windows11Upgrade via GitHub.
5. Install Windows 11 cu Windows11Upgrade
We run Windows11Upgrade on Windows 10 and select the ISO image a Windows 11, downloaded in point 3.
The installation process may take a few minutes, but in the end you will have it Windows 11 pe MacBook Pro.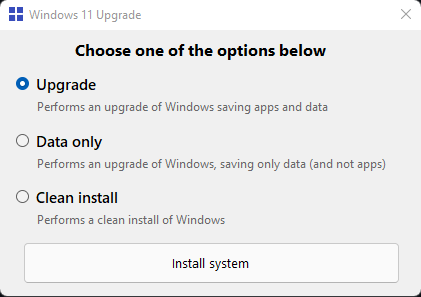 I installed it using the option "Upgrade", Being safer considering that this utility was not designed to install Windows 11 pe Mac. The "Clean install"I do not recommend it at all. You may lose the drivers installed with Boot Camp and other applications Apple installed for proper operation of Windows.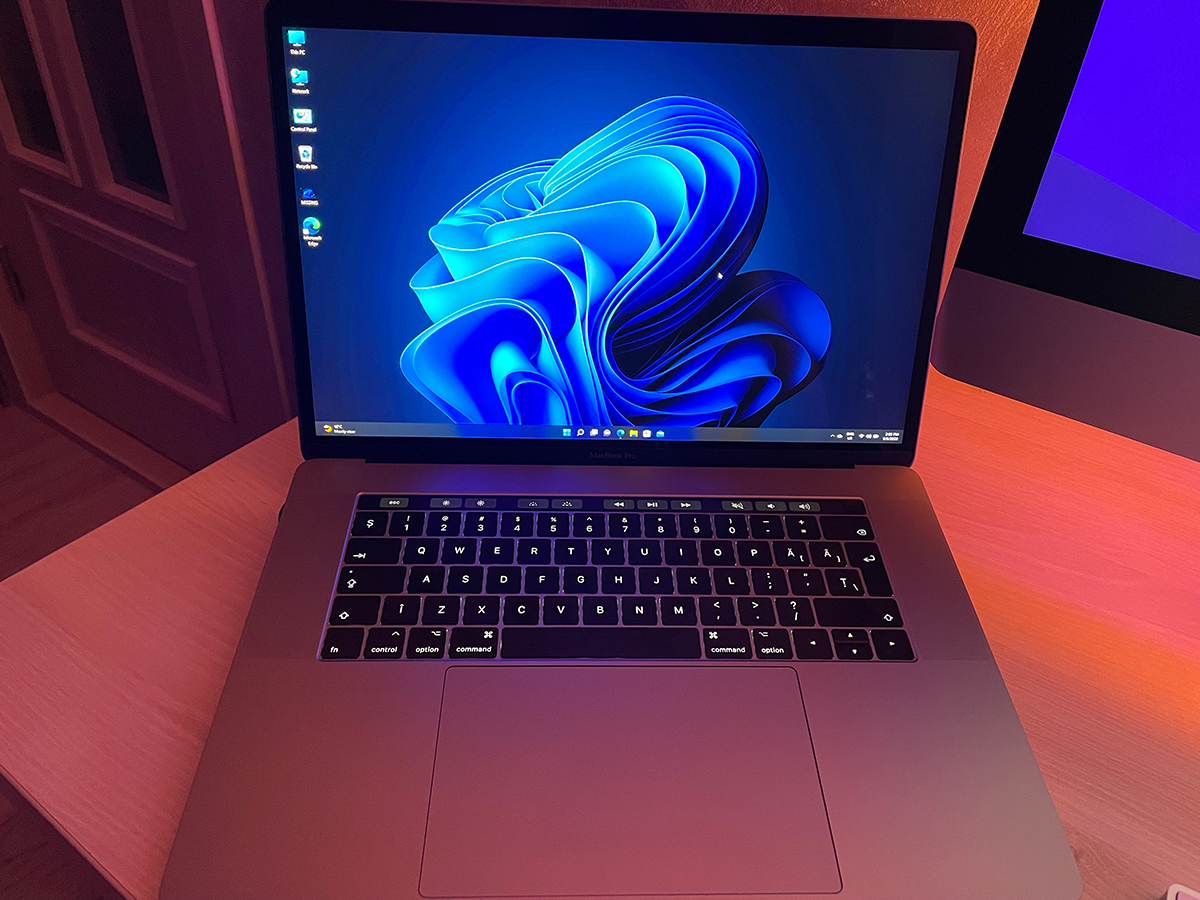 Windows 11 pe MacBook Pro - First impression
The operating system runs very fast, and in a few hours of testing I did not encounter any errors.
Touch Bar works for special "F" keys in combination with "Fn" and for display, keyboard and media control brightness controls. AMD Radeon Pro Video Card Driver a MacBook was installed with the calibration and customization software. Magic Mouse 2 connects automatically, without the need for manual connection. Requires custom scroll settings.