OS Windows have the largest coverage on computers worldwide. And all the major "coverage" they have when it comes to headaches caused to users.
Compared to macOS, operating system that works only on Mac or MacBook, Windows works on PCs and laptops produced by different companies. From DELL, ASUS, Lenovo and even brands and models that have not heard more than two people, you can install a version of all Windows.
So, we have to deal with various hardware on which the same operating system is installed. From here most of the functionality problems and critical errors appear on Windows.
The biggest problems Windows are the ones that end with BSOD (Blue Screen of Death) and the user inexperienced he does not know what to do to solve the problem.
Today we will stop the blue screen error: "DRIVER_IRQL_NOT_LESS_OR_EQUAL"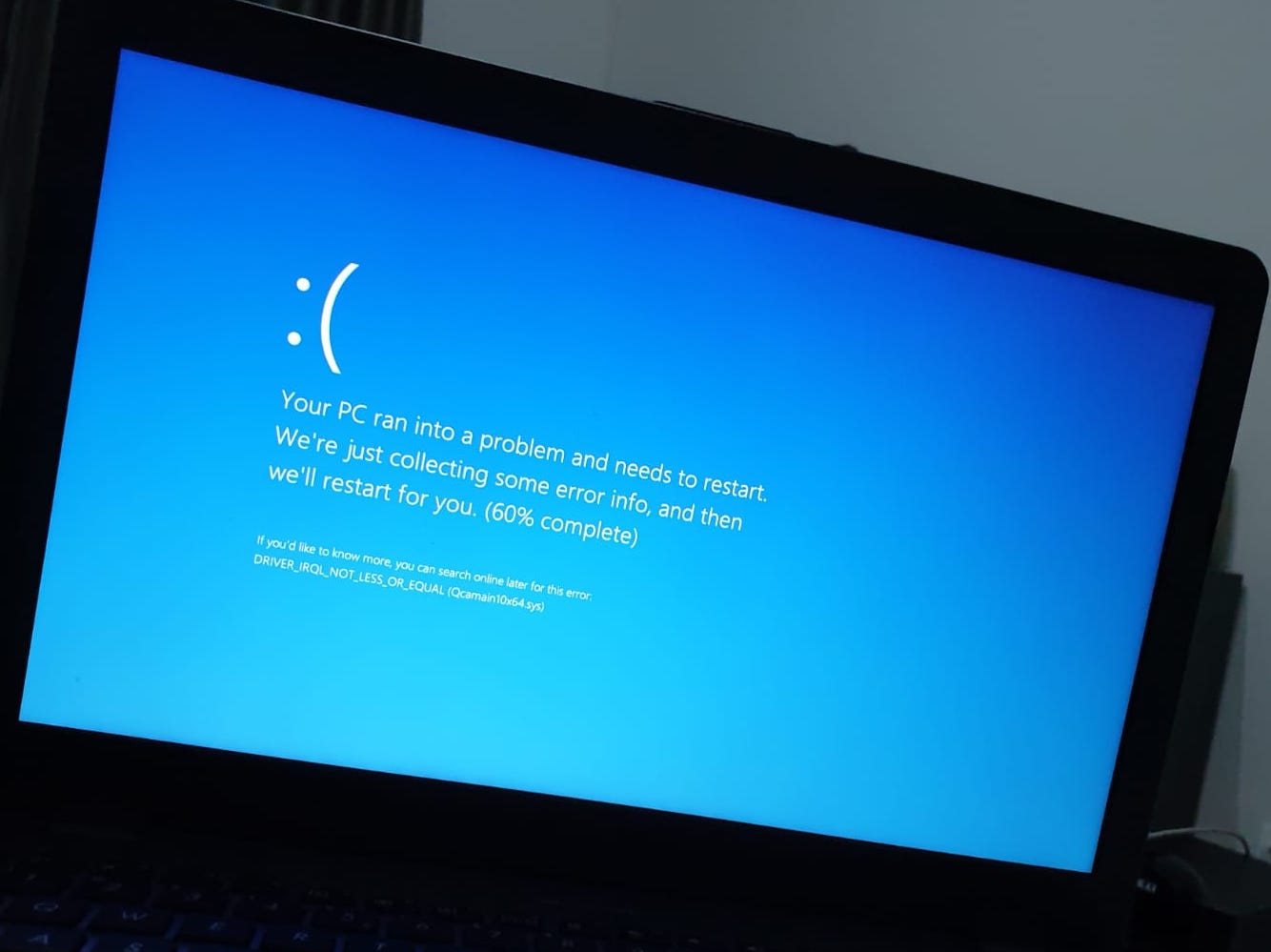 As we can also guess from the general error code, "DRIVER_IRQL_NOT_LESS_OR_EQUAL"Or refer to driver issues.
Making a bracket, drivers are those programs (you do not imagine they have the graphical interface) what are the connections between the operating system Windows, application and the device used by it.
For example, the sound application will work on an operating system Windows, you will need a specially created driver to connect the operating system to the sound card or sound output device. Without this driver you will not have sound on Windows. Neither system sounds nor music player or anything else.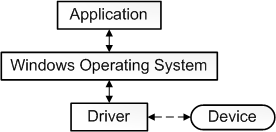 Most of the time, for each sound card model, there is a dedicated driver available from the manufacturer.
It's just an example. Of drivers they also need: network card, Bluetooth, wireless card, mouse, keyboard, monitor and more.
To create an even better environment for errors of the diver, on Windows we also have many scenarios in which the use of a hardware device is possible only with several drivers in the "cascade".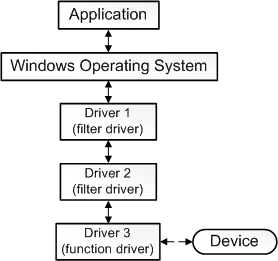 Returning to our subject, "DRIVER_IRQL_NOT_LESS_OR_EQUAL"Is exactly the date of a driver that does not work properly. The operating system remains stuck with various "Blue Screen" versions:
"Your PC ran into a problem and needs to restart. We're just collecting some error info, and we will restrate it for you."
":( Your PC ran into a problem and needs to restart We are just collecting some info, and then we will restart for you If you would like to know more, you can search online later for this error: Qcamain10x64.sys ."
"STOP 0x0000000A: IRQL_NOT_LESS_EQUAL - Qcamain10x64.sys"
"STOP 0x0000001E: KMODE_EXCEPTION_NOT_HANDLED - Qcamain10x64.sys"
"STOP 0 × 00000050: PAGE_FAULT_IN_NONPAGED_AREA - Qcamain10x64.sys"
"A problem has been detected and Windows has been shut down to prevent damage to your computer. The problem seems to be caused by the following file: Qcamain10x64.sys. "
The problem may occur "suddenly" following an update Windows 10, when the wireless network card becomes active. That is, after you have connected your laptop or PC to a wireless network.
Qcamain10x64.sys is a file that keeps the Qualcomm Atheros Driver, responding directly to wireless LAN connections.
There are scenarios in which after an update of Windows 10, this driver to have less happy interactions with other dirvere and system components of Windows 10, leading to the collapse of the operating system.
BSOD Error Resolution: DRIVER_IRQL_NOT_LESS_OR_EQUAL / Qcamain10x64.sys
Solving can be done in two variants. The simplest is in the scenario where the operating system starts up.
Method 1
1. Right-click on "this PC"Then click"Manage"
2. Click on "Device Manager"- You can find the option in the left-hand bar under:"computer Management"→"System Tools"
3. Go to "Network adapters"And right-click on the network driver. In our case: Qualcomm Atheros QCA9377 Wireless Network Adapter.
4. click 'Update Driver Software"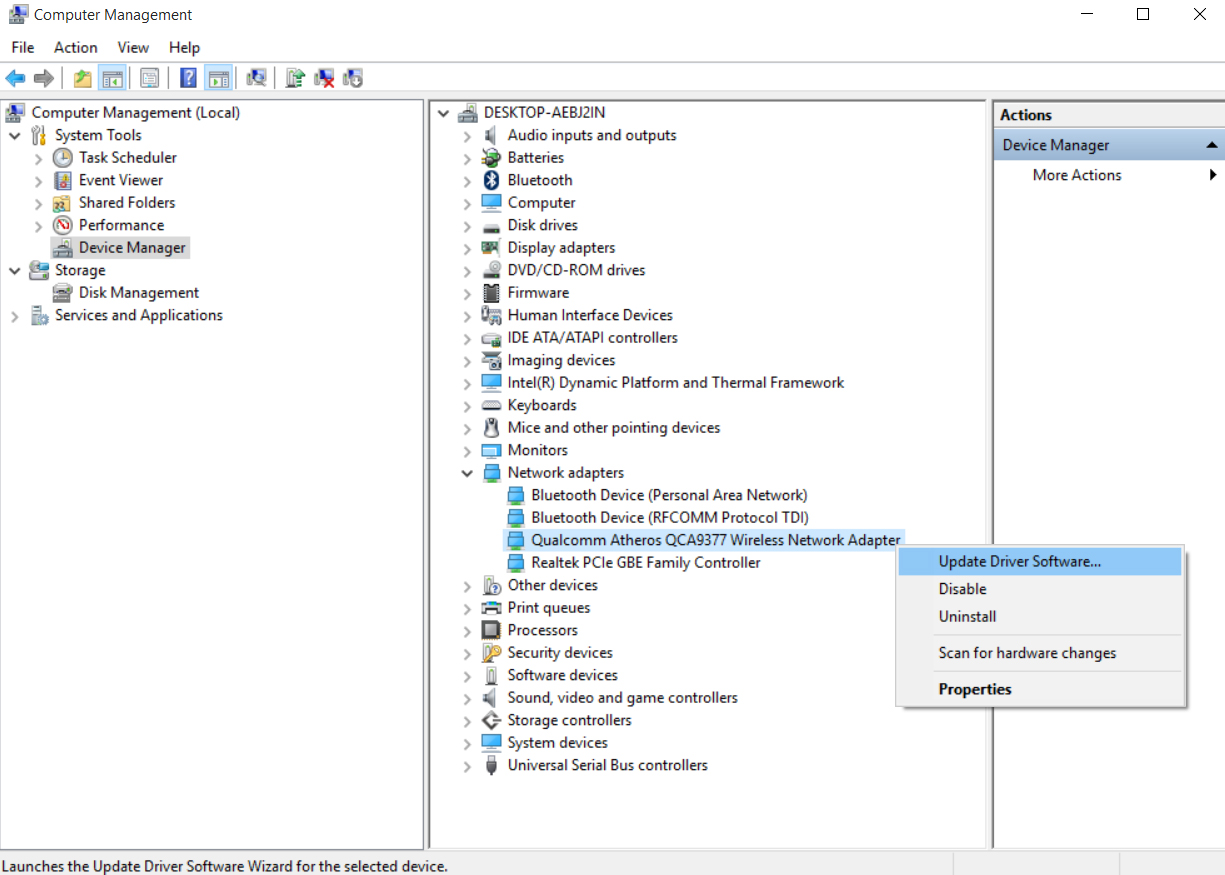 In the next step you have two options where you can update / change the driver. Either use automatic search in which Microsoft will look for and install the latest driver version for your device, or look in your computer or a compatible CD / USB driver.
After installing the new version, it is not necessary to restart the operating system. Everything should work normally.
Ideally, you should have a CD with the original drivers dedicated to the operating system Windows 10. If you bought a PC or laptop when it was a Windows older, Vista or Windows 7, it is best to go to the manufacturer's support page and download / install the latest driver version.
Method 2
The worst part is when Blue Screen appears before the operating system is fully started, and the "1 Method" is impossible to apply. In this scenario, the only option remains to run the operating system Windows 10 in "Safe Mode"
Starting in "Safe Mode" is based on your laptop model. Most models access a F8, F10 or F12 as soon as the manufacturer / brand logo appears.
After entering Safe Mode, follow the steps from "Motoda 1" to 3. At the next stage, right-click on the driver and click "Disable"
Restart the operating system, turn on the driver and update.
If the problem persists, you will need to save your original driver (on a portable (USB Stick)) made available by the device manufacturer and install it offline.
How to fix BSOD (BLUE SCREEN) DRIVER_IRQL_NOT_LESS_OR_EQUAL error on Windows 10