Whether used to run more applications or processes at the same time, whether you open more folders you will not endure another close them because they are difficult to access (either hidden or "buried" well), it is likely that in some cases you want to hide in the background several of them for various reasons (not to be confused or to prevent others know what you do, etc). Windows Hider is a Free utiltate allowing users Windows hiding in the background any application or process running and any window or open folder (it will still run, but will not appear on desktop or taskbar) With just one click or with a shortcut.
How does Windows Hider?
When you run Windows Hider, the lists on the left side all applications, folders or web pages open at that time. To hide these applications / folders / etc, you have to integrate them into one of the 4 groups existing right (open group, select the program and click on add, We recommend dividing the programs according to properties or use). When you want to hide a specific application running, please first click on the group to which it belongs then click on Hide / Show Current Group (Remember, all applications or folders that are part of that group will also be hidden). Programs that are added to any of the existing groups 4 will be hidden in the background. To remove a program from a group, select that program and click remove.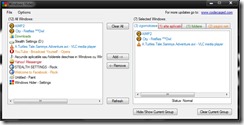 For adding Keyboard shortcuts for each of the existing clusters in Windows Hider, click on Options and select Settings. Then click on buttons No Hotkey Assigned the right of each group and type key combination you want to shortcut (eg to hide / display programs 1 group, Choose the combination Left Ctrl + F1).
If among open applications that you want to hide some applications there is also "noisy" such as media players, Be sure to check Mute Sound in the right group to which they belong. Also, you can create shortcuturi (key combinations) to stop or turn on the volume (Mute Sound, Unmute sound), And of course, to hide / display Windows Hider.
Download Windows Hider 1.1.25.
Note: To install Windows Hider you must have installed Microsoft. 3.5 or 4 Net Framework. The application must run with administrator rights (right click - Run as administrator). Toateversiunile compatible with Windows XP, Vista and 7.
Hide applications or open folders in Windows with Windows Hider