social networks like Twitter, MySpace or Facebook have greatly increased in popularity in recent years and are the leading cause of decrease in yield workplace or shrinking time spent by children for learning or other activities unrelated to computer. If you are among those who suffer the direct consequences, then you most likely will want to block access to these sites in hours of work, school or learned.
Internet Security Controller is a free utility which allows those affected by social networks to restrict access employees or students / children to them through computers at work or school. With this program you can set number of hours in which social networks will be restricted, You can select the network you want to block from a list Popular sites or add your own list of such Social sites.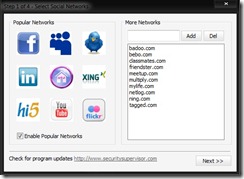 Internet Security Controller offers and option to set a time that you allow access to social networks during exhibition hours restriction (eg lunch break). Security settings can be made per day or per hour, creating a range of restrictions is very easy, by marking selected hours red or green.
Also, you can set a time limitt in which social networks can be accessed outside of the restriction.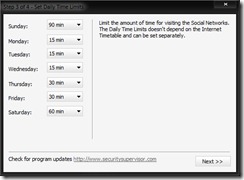 Once the settings have been made restricting when someone tries to access social networks selected will receive the following error message.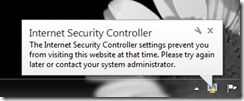 Settings made in Internet Security Controller password protected, Thus being allowed their modification by others.
Note: The application is compatible with Windows XP, Windows Vista and Windows 7 (32 and 64 bit).
STEALTH SETTINGS - Restrict access to social networks with Internet Security Controller
Control access to social networks with Internet Security Controller