It seems that the Mozilla have progressed in terms of speed, considering that most of the users Firefox nor were usually well-4 version of the (Firefox 4Launched with much fuss in March after a long succession of beta) And already released The final version of Firefox 5. Admittedly, the kit installation browser can be found at download for free currently only Mozilla ftp sitesAnd it will be made public only on June 21 2011.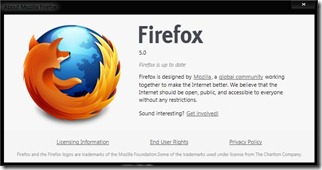 What's New in Firefox 5:
Support for CSS animations
Do-Not-Track header is easily identifiable
WebGL content no longer load cross-domain textures
setTimeout and setInterval values ​​for tabs in the background was changed to 1000ms for better performance
memory, JavaScript, canvas and improved network performance
improved support for HTML5, XHR, SMIL, MathML and canvas
integration desktop environment improvement for Linux users
Download Firefox 5 for Windows
Download Firefox for Mac OS X 5
Before installing Firefox 5, make sure you have all plugins updatedTo no failsafe guide to the browser.
Note: Support for Firefox you can find this 5 link.
Final 5.0 launched Firefox! (Download)