Imagine how it would be if tabsit would not be a feature available in any browser and for each web page I like to visualize I have only the option to open it inA new window (As happens 10 ago or even years). Not a very encouraging thought, right?
Regardless OS or browser, tabs greatly help users in terms administration a multiple number open web pages and in saving system resources, Which is why they have become relatively quickly addicted to this feature.
For those who tend to work a lot with MS Office suite and have moments (rare or frequent) that is entangled in many documents open (obviously, each in another window), we have good news: Office Tabs extension allows use tabs in the three most used Microsoft Office applications, namely Word, Excel si Power point.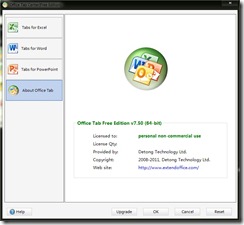 after installing Add-on, You can open or create multiple documents in the same window Word, Excel or PowerPoint and you can navigate between them using the key combination Ctrl + Tab or (obviously) mouse.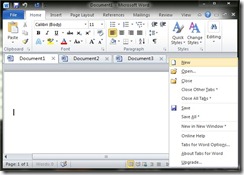 To create new papers in different tabs the same window you just need to double-click on a blank section of bar tabs and options to access Office Tabs right click all the bar tabs and select Tabs for Word / Excel / PowerPoint Options (Or open Office Tab Center).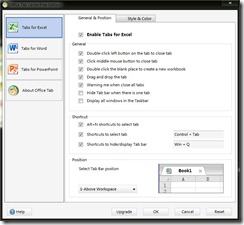 Office Tabs version presented in this article is free version, Available for non-commercial use and do not benefit from several sites feature available in premium version / extendedSuch as the possibility of To save all open documents in tabs simultaneouslyThe opportunity To close all tabs except for the selected or opportunity To open a document already open in a tab in a new window (Options not available in the free version are marked with *).

If you want you can also use these sites feature, consider upgrade addon's la commercial version (Price 25 $). For those who want to use tabs and other Office applications such as Publisher, Access, Visio si ProjectCan buy extended version priced at $ 35.
Note: Office Tabs is compatible with all versions of Office 2003, Office 2007 and Office 2010.
STEALTH SETTINGS - How to add tabs feature to MS Word, Excel and PowerPoint
How can we add tabs in Microsoft Word, Excel and PowerPoint