I think Y! Messenger started to go crazy big way for some time. In the last week I had to reset password from Yahoo! 4-5 times.
Without wrong password or someone change me, I woke up with "Your account has Been locked"When I try to log on Y! Messenger and Yahoo! Mail told me I was wrong password.
As far as I know, the message "Your account has Been locked"Appears after several failed login attempts. Perhaps someone tried to break the password of Y! M or to prevent me I login to Yahoo account.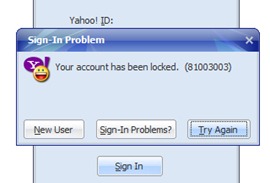 Problem solving "Your account has Been locked"
In Yahoo! account you can set a alternate email address. Alternate email address we use to password reset, Even when watching personal data or answers to secret questions, Set when I created a Yahoo! account.
1. Click on "I can `t access my account".
2. Tick ​​box "My password doesn `t work"
3. Introduce IDSite for which we want to recover password si security code the image.
4. Introduce alternative email address. Which course should I know password.
5. Check alternate email address and we click the link to reset the password. Reset My Password.
6. In the page that opens, you will have to enter the password. This can be your current password (which was not accepted) or a new password.
Now you can log into Messenger or Yahoo! Mail without problems. This is a network password recovery method, but it works and if you have an ID blocked. It is a effective solution to unlock the password of Yahoo Messenger / Yahoo Mail & etc..
Unlock Yahoo Account Password - Unlock Yahoo!
Unlock ID / Cont Y! M - Your account has been locked!