Even before the official release of test version (beta) of Windows 7, microsoft released the minimum conditions for it to run in optimal conditions a PC system (RAM 1GB, 128Mb video memory, 16GB disk space, 1GHz processor). But as made public and that This version came with many bumpsTested on the skin of several million volunteers (hence the now famous, Send Feedback). One of the problems that Windows 7 about everything written on the internet in the 10 days after launch is the Aero-style activation. The problem turned out to be different origins, And hence also troubleshooting various.
But, before muttering Microsoft and search for a tweak / hack to solve the problem with "aero look, it's aero" Windows needs 7 check your system configuration corresponds Go to Start, type dxDiag in Search bar and give Enter.
Some of you will be surprised to know that even though you video card that meets the minimum condition 128MBIt is used to a minimum (16MB) And is VGA disabled (not available), Hence the activation problem Aero interface. Solving this case is not in tweak / hack or driversBut in BIOS.
There are several ways to access the BIOS, depending on its type (or depending on the motherboard of your system). One would be to have to restart your PC and you will notice, before the system starts booting, indications like "Press [Key] to enter SETUP / BIOS"(Eg in case PhoenixBIOS, That is key F2). Another method would be to be informed about the motherboard (Read its manual or search for information on the Internet).
Once inside the BIOS, click on tab ADVANCED and select Onboard Device Configuration.
Check that Onboard Video Memory It is at full capacity. If not, set it to your
Then check VGA It is activated.
After making these changes, exit the BIOS and allow the system to boot.
If the Aero interface is activated by changes in the BIOS, check that you have installed necessary drivers for your video card (Or if they are updated: control Panel->System and Security->Windows Update ->Optional updates). If the problem is not in the drivers, go to control Panel->System and Security->System->Informations and Performance Tools and click on Rate this computer. If the Graphics (Desktop performance for Windows Aero) Have a lower score 3, Then the solution would be change / upgrade video card. Or you could try (although in this case a solution is not guaranteed) next Registry tweak / hack:
- Open registry Editor (Start->type regedit in the Search bar->Enter) And follow the path HKEY_CURRENT_USERSoftwareMicrosoftWindowsDWM. In the right pane create these three inputs DWORD (32-bit) Value:
UseMachineCheck
Blur
Entertainment
and set the 0 for each of them.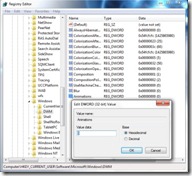 Then restart Desktop Window Manager Session Manager (Start-> Type Services.msc in Search bar->Enter)
or run Command Prompt with administrator rights (Start-> Type cmd in Search bar-> right-click cmd.exe-> select Run as Administrator) And use the following commands:
net stop uxsms (Enter)
net start uxsms (Enter)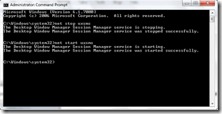 For the changes to take effect, restart the system.
Enable Aero in Windows 7 (BIOS Config, Registry Hack, Drivers Update)