[update 2018]
The plugin presented in the article below is no longer available. For more details about how can you create a 404 page, how to find out if site visitors are visiting 404 pages (nonexistent) and how can you fix these issues, consult Google Console (provides reports on the health of your website) and article dedicated to this topic on WordPress.org (https://codex.wordpress.org/Creating_an_Error_404_Page))
When a reader of yours does not find one or more page required on websiteIt means that blog fell ill 404 Error: Page not found. In the best case, it can be imagined some pages of users who never existed in your blog.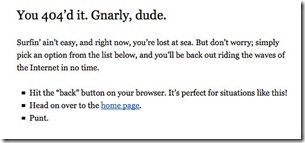 But most often it comes corrupt links or pages that were hits at a time, but because of Site changes or of errorsDisplays now 404 error. In these situations it is necessary to repair more rapid error "page not found" taking into account that they can have an impact on quite unpleasant indexing site in Google Search.
To check if your blog supplied 404 suffer from such errors and to repair these errors if any, have around a WordPress Plugin, namely TentBlogger 404 Repair.
TentBlogger 404 Repair check all display applications made the pages of your blog readers or Search EnginesAnd notifies you when application errors result 404: Page Not Found. The plugin displays corrupt links so you can quickly identify errors and then fix it. Once errors are repaired, click on repaired for the plug-in their right not to display further error.

Download WordPress Plugin TentBlogger 404 Repair
To check if the plugin works properly on your site after its installation requires displaying a non-existent pages blog.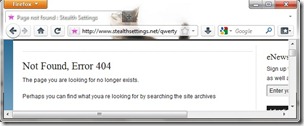 The plugin will record and display application failed link-ups with dashboards.
STEALTH SETTINGS - Find and repair 404 errors (Page not found) in your WordPress blog
Find and fix errors 404 (Page not found) of your WordPress blog