Known as "AirPort", Routers Apple they are used and appreciated especially by the users who own devices Apple. iPhone, iPad si MacBook.
We tell you from experience, like AirPort Extreme offers stability, security, high speed file transfer via LAN is configured very easily.
In the last period, Apple has released a package of update-hate software (firmware) For all models of routers brought to market by the company.
AirPort Time Capsule 802.11ac si AirPort Extreme 802.11ac they received recently updatethe CPC 7.7.7 firmware. In this release are solved communication problems between users connected to the same local network, improving performance for Guest Network and removing possible IP address conflicts with Bonjour Sleep Proxy.
How we do it update the firmware of an AirPort router on macOS or Windows 7, Windows 10
1. First of all we need to have a laptop or a Desktop connected to the Internet through AirPort.
2. If we use external hard drives connected to AirPort, it is a good idea to stop any data transfer between the computers on the network and the hard drive attached to the AirPort router. During updatefirmware, will be disruptions connection.
3. Download, install and open the AirPort Utility application. Available for both macOS as well as Windows, this is the management application for routers Apple.
4. Log in to AirPort, then in the application's Home Screen, click on AirPort and click on the "Update".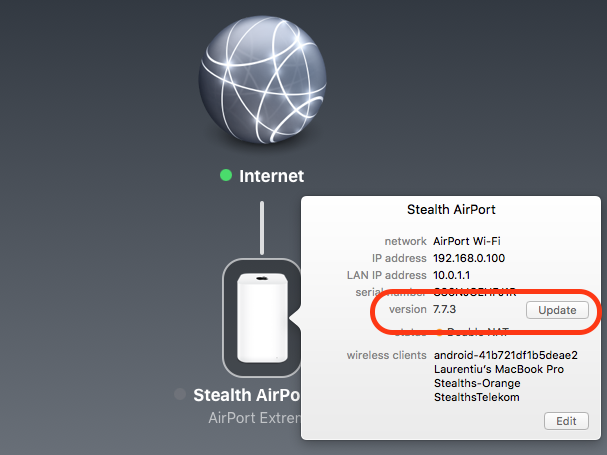 The update AirPort Base Station firmware may take a few minutes. During all this time there will be interruptions of Internet and LAN connection.