If the process 'powerd' uses large resources of CPU pe Mac, you are not the only one who has given this problem. Apparently, the problem is very present on all models MacBook OS macOS Ventura.
The consequence of the high use of CPU (visible in Activity Monitor), by any process, is the overheating of the device and the noise produced by the cooling system, which tries hard to maintain the optimal operating temperature for the processor.
In this tutorial you will learn how to solve the problem in which the process 'powerd' uses large resources of CPU pe MacBook, but also what is this process.
What is the 'powerd' process and what does it help with?
As the name suggests, 'powerd' is a "daemon" of the operating system macOS, which deals with the management of energy resources on MacBook. The process adjusts the power settings of CPU, including the frequency and number of active cores to maintain a balance between performance and energy efficiency.
'powerd' is very important in optimizing battery life and maintaining energy consumption as efficiently as possible, especially in the case of use on portable devices such as MacBook or MacBook Pro, as I said above.
Is the 'powerd' process consuming high CPU resources on a Mac? What should you do in this situation?
The first problems in which the process 'powerd' appeared on macOS Ventura, when Apple introduced the scheduled sending feature of email messages. While waiting for the action from the task, the process 'powerd' pushed the usage CPU and over 100% of capacity.
If you are faced with an excessive use of the processor, it is good to check the list of programmed actions. open Terminal and run the command:
% pmset -g sched
Scheduled power events:
 [0]  wake at 04/12/62 02:47:16 by 'com.apple.alarm.user-visible-com.apple.email.SendLaterDelivery' User visible: true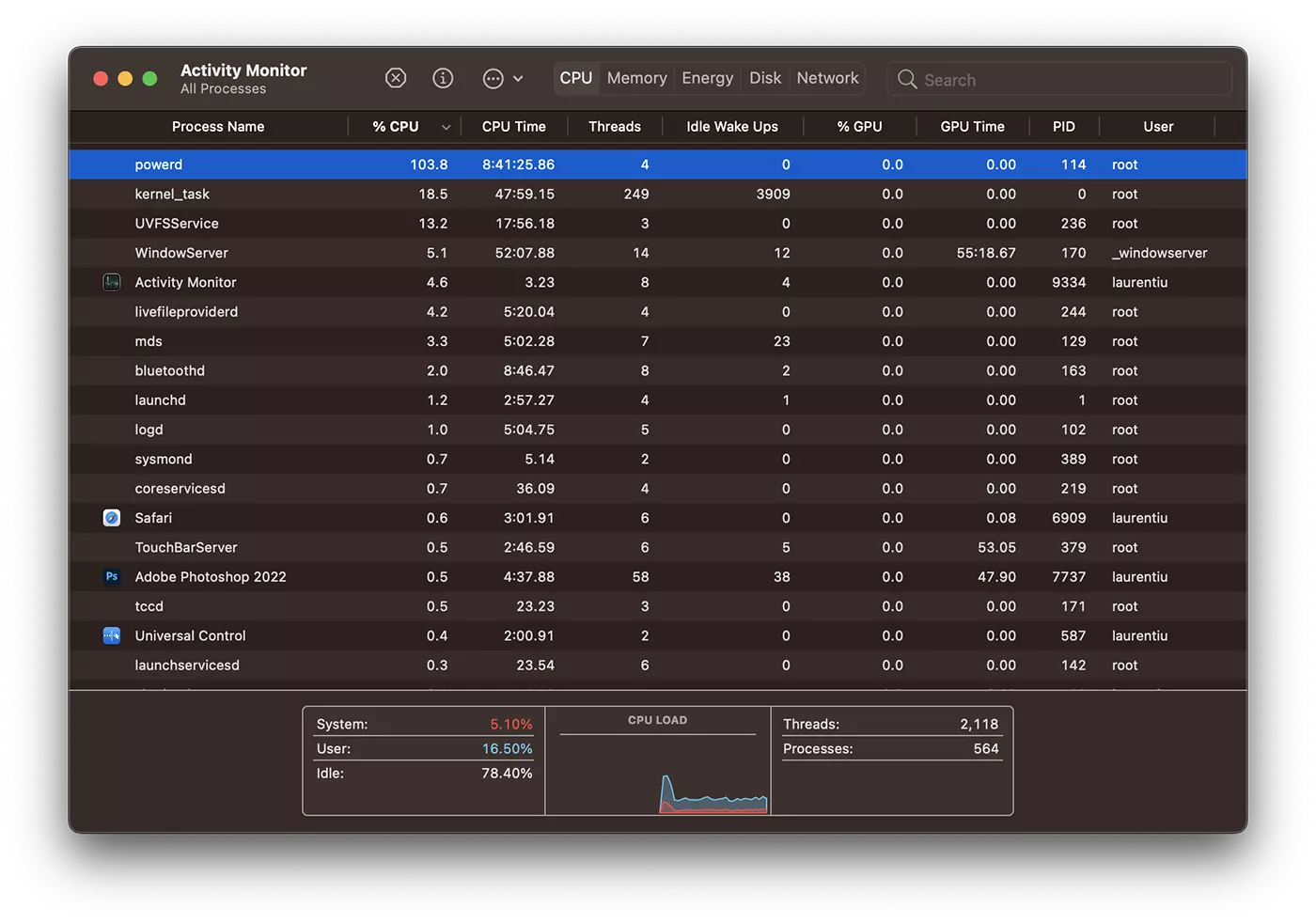 To solve this problem, the simplest is to stop all scheduled tasks, which concern energy management MacBook. Including the tasks of automatic entry in the mode "sleep".
open Terminal and run the command line:
sudo pmset schedule cancelall
After running the command line, "pmset", all scheduled actions will be canceled and the resource consumption of the process 'powerd' will return to normal.
It is important to remember that canceling all events can affect the way energy consumption is managed MacBook.