No doubt Adobe Photoshop is the leader when it comes to graphics processing si photo. For a new user begins to discover Adobe Photoshop, Change program preferences and settings is normal. As is normal and no longer know how likely return to default settings and preferences (those at installation) experienced after application.
The good news is that both older versions of Adobe Photoshop (CS, CS2, CS2) and Adobe Photoshop CS 5.1, it is possible to reset preferences and application settings back to the default. Existing at the time of installing the application.
How can we reset Adobe Photoshop (version available for Windows)
1. Keep press Ctrl + Alt + Shift.
2. Taking the three key presses do click on shortcutOr the Photoshop icon to open application. It is preferable to ddeschidem application of Start Menu > All Programs.
3. Then click to open the application, you will see a dialog box asking if we want to delete the file "Adobe Photoshop Settings".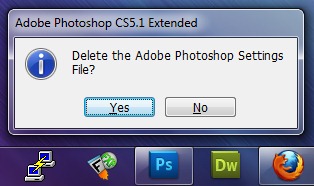 4. click 'And it is"To reset Photoshop settings.
To note that if you brush-hate, gradients, styles and / or actions loaded into the application, they will not be affected by this reset.
The method tested on Windows 7 cu Adobe Photoshop CS5.1 64-bit.
Stealth Settings - Reset Photoshop Preferences & Settings.
ADOBE PHOTOSHOP TO RESET DEFAULT SETTINGS