viruses, trojanii, Spyware and other malware will always be a problem for users Internet. Their evolution over the last decade has been an extremely accelerated and despite numerous antivirus trying to block the danger they pose, not yet discovered "vaccine" for this "pandemic". And in terms of "health" Your operating system, You can never be too vigilant.
Always use an antivirus is mandatory (Even though most likely there will be some virus that will sneak into your system through various security breaches, Preferably one instead of 150, for example - recent case met) and, of course, Scan your computer regularly and thoroughly. And last but not least, you close a program type removal tool, Because - God forbid! - Nobody knows when you need it.
If you are facing a malicious more "bushy" operating system and even using a removal tool increasingly fail to cope malicious processes that you have seized computer (often, even if viruses are discovered, they refuse to be "driven" being held life de illegitimate processes running freely in your system). Therefore, before using such a utility, it is recommended to use the first Rkill.
What is Rkill?
Rkill is a application small, portable the stop / end in seconds all malicious processes running in your system, thus increasing the chances of Complete Cleaners (What is right, it is possible to stop other legitimate processes - Such as the browser, but surely they do not want need during a scan, or those whose names are borrowed often different malware).
How does Rkill?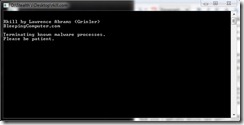 After downloading, double-click on Rkill. It will run into a Command Prompt, Ending any Process suspect running on your computer (not necessarily illegitimate suspect, so if in doubt regarding a process running in your system, take a look here poae and you will find the information you are looking for) immediately after creating a log processes stopped.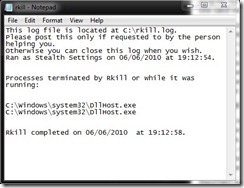 It is important that After using Rkill will not reboot - Because malware programs will start off running again, but immediately perform it using antivirus scan or a removal tool supplied.
Credit @ Grinler (BleepingComputers.com)
Please note: Different fake antivirus will "detect" Rkill as complying threat to harm your operating system and try to get rid of this program. If you are in this situation, do not close the error messages given by fake antivirus, but running Rkill several times to stop (in case of malware from your computer number is in the tensIt is necessary to run Rkill several times to make sure that core processes - illegitimate - of these are off).
Rkill will help get rid of Malware processes in the system!