I promise to be hired soon Yahoo! Messenger Team . I exerimentat about all the plugins and hacks possible YM 8 I now turned his attention to beta (preview) Yahoo! Messenger Vista. Are on the verge of giving up this version until May there are new major updates to find it a little poorer than GTalk .

Y! I Vista, nice design looks good but holds many bumps and shortcomings. I think that was the version that was made on the run and removed at the insistence of users who have waited almost a year to launch Y! M Vista. For those who are thinking of installing the new version of Y! M on Windows Vista, you no longer have to look for options voice si video . Y! I Vista, not so.
The list of options is very poor, as you see in the image below: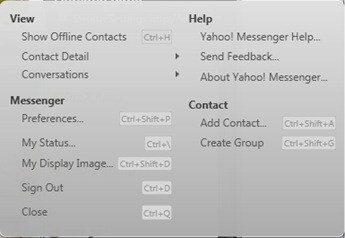 Nothing special, nothing interesting and "Preferences ...". where besides "Connection" , "Ignore List" "General" (With other options 4 minimal.) And "Sound" , No nothing. Deh ... looks good and new. Something else ... and do not you come to swear by all the saints he finds that this does not save conversations archives, does not show the transfer details of a file to another ID (that is, what percentage is left to be transferred from the file. It's stressful that you don't know if something is being transferred or not). No notification messages for emails received on your Yahoo! , doesn't have Y! Music, doesn't have Webcam, doesn't have Yahoo! Voice, it doesn't have etc, etc, etc and it doesn't have Stealth Settings ! Daaarrr… has something that compensates for all the shortcomings….
Yahoo.Messenger.YmApp has stopped working
A problem caused an the software to stop working correctly.
Windows will close the program and notify you if a solution is available.
Ie ... Windows Vista Home Premium , Has some nausea with him from time to time ... like when you're the world dear this message appears and automatically closes Yahoo! Messenger.
For more details about Yahoo! Messenger Vista and to keep up with the latest news, visit The official blog of Yahoo! Messenger.
Yahoo.Messenger.YmApp has stopped working & more options.