Until now, the only concession that Facebook did those who expressed their desire to see the option Dislike for posts (and comments) on popular social networkIt was the addition of a Dislike sticker that I can use only in private conversations on Facebook chat (Or Facebook Messenger mobile app). For those who are not satisfied with just a sticker, we have good news: Dislike button It can now be added Facebook (Ie below each post) with a extensions for Chrome Goole browser, Dislike on Facebook.
How does extension Dislike on Facebook?
First, to use this extension, you must use Google Chrome browser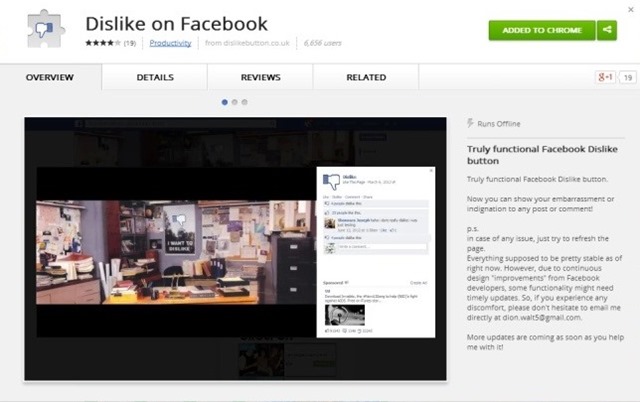 to install extension, Click on download link available later this Article; After installing simply give refresh browser and you will notice that Dislike button will appear under each Post to Facebook

However, there are a minus, namely that only Facebook users using this extension will see that button and dislike sites or data that have been received (and while a user Dislike extension on Facebook they can invite all your friends to install and they in turn, it is uncertain whether the author of a particular job and sees if the extension uses received or not Dislike to it). However, until Facebook will decide (if it decides) to respond to feedback from its users and add a Dislike button for realExtension Dislike on Facebook Dislike sticker and remain the only options for users.
Download Dislike on Facebook (extension for Google Chrome).
STEALTH SETTINGS - Add Dislike button to Facebook posts (Google Chrome Extension)