avp.exeIs the process that will sometimes headaches, because huge resources RAM si CPU consumed. One way is to be expected that this process sometimes skip limits. avp.exe is a process met all PCs installed Kaspersky Anti-Virus or Kaspersky Internet Security. The executable process avp.exe, softwareCPC anti-virus launching virtually all protection modules. Protection against spyware, e-mail spam, trojans, viruses, malware and other threats coming from Internet or on deviceExternal sites. . .
Avp.exe errors si excessive consumption of resourcesmay occur due to a large number of files made in a very short time Anti-Virus's viewfinder, setting "High"Security level modules or ... request Scanning the archives and installation packages.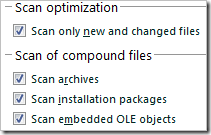 If you have ticked all the boxes under "Scan of compound files"Avp.exe are very high chances that you consume system resources (CPU & RAM) while installing huge programs or accessing a folder containing multiple archives.
avp.exe (Kaspersky Lab)