After some time, Facebook has added a new feature la social networking, Namely the messaging and chat thereof, namely Read Receipt, Feature that allows your friends to know When you read posts. While some users, who want to know when they are read posts by those who have sent delight this new feature, there are plenty of people who feel somewhat forced to respond to messages that normally they would ignore the pretext that they did not see, and want to disable or even block this feature.

For users who Read Receipts feature of Facebook's are not even "friend" and want to get rid of it somehow, we have good news, namely a solution came in the form of a Browser plug-in, named Chat undetected.
Chat undetected is, as I said, a browser extensionThat allows users to prevent marking messages read with "seen by"By the Read Receipt feature, and in this way to" escape "undetected by contacts who have sent messages.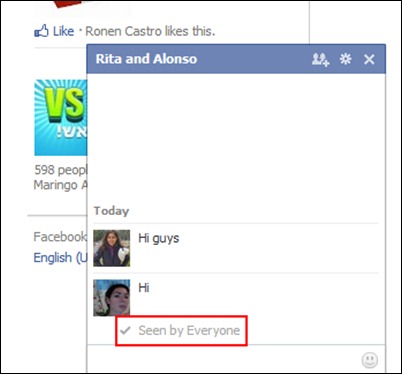 How does the Chat undetected?
download extension, install athen restart browser install it for you choose, for the changes to take effect
After installing the extension, you will receive a message of thanks from the developer: this is a sign that from now on you will prevent your friends on facebook to see when you read messages from them. The Read Receipt feature will be completely blocked the browser plugin you installed when you connect to Facebook.
Download Facebook Chat undetected
Note: Chat undetected is compatible with Firefox, Chrome, Internet Explorer and Safari.
STEALTH SETTINGS - Chat undetected Prevent Facebook to show your friends When you read Their messages
Chat Undetected blocks Facebook to let friends know when you read messages