At the top of the Yahoo! Messenger year window lurks often overlooked, BUT handy piece of the interface: the contact search bar. Aptly named, it lets you Quickly find a friend in your contact list and start a conversation with theme, whether it's over IM, E-mail, SMS or Voice. And Even if someone's not in your contact list or address book, You Can Just enter the Yahoo! ID, phone number or email to get started.
Using the Contact Search Bar on Yahoo! Messenger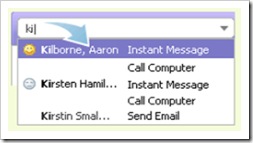 1. Start typing a couple characters into the Contact Search Bar, and a list of matching names, IDs, and phone numbers Will Appear Below.
2. Use the arrow keys or the mouse to highlight a contact, and press the Enter key.
Read more: Get to know the contact search bar
Contact Search / Yahoo Messenger