It is impossible to believe that there is even a single worldwide user Windows who has not been in his life computerist internet user problems viruses. I rather tend to think that a large number of these users (including myself many times) have repeatedly acquired infections so unfathomable (who jumped over the introductory phrase, it's about infecting a PC with malware : P) that have hardly left "send away" (it's usually viruses Modify the behavior of the operating system or prevent antivirus installed to function normally, It can not detect hazards). For these users - and for those who will follow his footsteps - the simplest solution to get rid of stubborn viruses is boot WindowsSafe Mode (how Windowshe only runs processes essential for the functioning of, Thus preventing the release malicious processes) And using a Portable antivirus to clean up the system.
How do we boot Windowsul in Safe Mode?
If you posses a OS Windows XP and have some problems with Ulysses and (especially with) his horse, to boot Windowsin Safe Mode follow the steps below:
open Run (Win + R or Start Menu) And type msconfig then let Enter
in tab Boot tick / SAFEBOOT and select MINIMAL
OK, Then hit restart
Welcome screen should look like this:
If you still afflicted with a Vista or you managed to pick up one Windows 7You can convince the system to boot into Safe Mode All of msconfig (May you can open and the Search site from Start Menu). Then in the tab Boot, check Safe Mode and select minimal, Then obviously give restart (if you have installed two systems Windows in dual-boot and you want to Safe Mode boot secondary OSBefore giving restart, everything in msconfig, click on Set as default).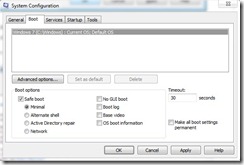 Why is it important to use a portable antivirus to clean your computer from viruses?
Firstly because, as I said at the beginning, some viruses have a habit of "put sticks in the wheels" antivirus, So that it can no longer detect or worse, can not function at all. Second to that in Safe Mode on Windows no program can be installed. And hence portable antivirus that does not change anything in the system, is ideal.
What antivirus portable to use to make your computer clean of viruses in Safe Mode
Well any portable antivirus want. Close Every antivirus has a portable versionSo too have a choice. But if you want to go on our hands, we recommend (no guarantee that it is most effective in all major cases of malicious) SUPERAntiSpyware – download link and details of the find here (Before using this antivirus in Safe Mode, it is better to make database updates and virus definitions in Normal Mode). Or Microsoft Malicious Software Removal ToolWhich - surprisingly or not - it does its job quite well.
Note: Booting WindowsSafe Mode can also be done by pressing the F8 key when starting or after restarting the system, but given that there is a high chance that you will miss the moment (and in some cases you have no idea when it is), we recommend using msconfig to accomplish this.
How can we clean it? Windowsthe virus in Safe Mode