In Windows 8, How to handle the applications (And here we refer in particular to modern applications) Is different from what we used in previous operating systems. For example, there is no button "x"To close the applications, but they must drawn toward the bottom of the screen (Long click on top of the application so you can shoot) to be closed. In addition, and Desktop running all the applications Windows 8, and also, and this may be closed if it is pulled down.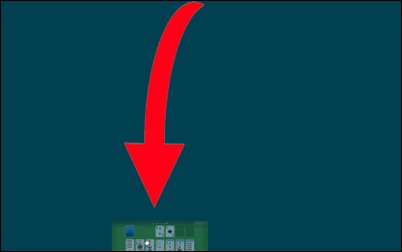 Sometimes, however, it is possible to unintentionally close some modern applications or desktop, such as in cases where we want to make a screenshot and accidentally shoot with the mouse to the bottom of the screen. But this can be prevented if disable the feature "Drag to close" for modern applications.
How do I disable "drag to close app" in Windows 8?
To disable the feature "Drag to close" in Windows 8We use a free utility, named Skip Metro Suite.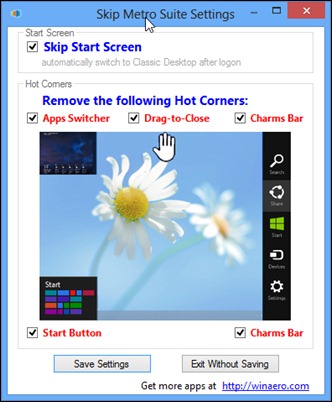 This utility allows users and them boot directly in Desktop, Not to be displayed Start your sceen, Or individually disable "hot corners", Such as App Switcher (Top left and bottom left corners, and also the extreme left edge of the screen) Charms Bar (Top right and bottom right corners) Start Screen thumbnail (Extreme upper left corner) and, of course, Drag to Close.
To feature disable the "drag to close", Run Skip Metro Suite and check the option Drag-to-CloseThen click on the Save Seetings. After you close the application, you will see that modern applications can not be closed (and not moving) if you try to pull them to the bottom of the screen. If you wish to disabled and other hot-cornersNote that you will be able to access these continue using shortcuts Windows + Tab (App Switcher) and Windows + C (For Charms Bar).
Credit@winaero.com
STEALTH SETTINGS - How to disable Drag to Close feature modern apps for Windows 8
How can disable the feature "drag to close" for modern applications in Windows 8