iTunes is the most important application ever launched AppleThis being a very important and well-defined both operating systems OS X si iOSAnd for a sufficiently large part of users Windows in parallel using a device Apple. Although iTunes is no longer necessary to use a few years iOS devices (Users needed at least for this application Data transfer) And has never been mandatory for operation OS XStill is used by the vast majority of users of these systems as an application for backup, shop for different applications music and audio / video player.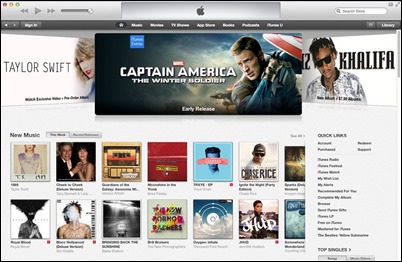 However, users are perhaps OS X who do not want to use iTunes for various reasons, preferring to call certain third-party applications to perform the actions described above. And being a native application Apple, which comes bundled with OS X operating system, it has no option UninstallAnd is listed as application "necessary" for the system.

Fortunately, for users OS X which do not use iTunes and believes that it occupies space for nothing (or just want to get rid of it), there is a way they can Uninstall this application in the system.
How do I uninstall iTunes in OS X?
open folder Applications and locate application file iTunes (/Applications/iTunes.app)
then right click (or Control-click) the iTunes.app and select Get Info menu displayed
in the open window, click the icon in the form of closed padlock displayed in the lower-right corner, then enter password management in order to make changes application permissions
then open section Sharing & Permissions (If it is not already open), and change the permissions in Read & Write for all users of the system (everyone)

After you make this change, close the window Get Info and simply iTunes pull in Trash (Then let Emply Trash to complete uninstall process)
And ready. Following the above instructions will be uninstall iTunes in OS X. If you later want to reinstall iTunes, Be open section software Update from Mac App Store (Or run the application software Update if you use a version OS X Older than Mountain Lion), And it will be given to automatically install iTunes Your system can also Download manual application on website AppleUsing link this.
Note: Uninstalling iTunes in OS X does not affect media files stored on a server, it is not linked to the deleted file, and after reinstalling the application, you can reaccesa same library (library) previously used it.
STEALTH SETTINGS - How to uninstall iTunes in OS X
HOW CAN uninstall iTunes OS X