Search a file using Windows Search can "kill" any Windows User XP out of boredom. The same is true for Windows Vista users 7 who's disabled Indexing Service filesWhich - although it makes finding files to be much faster - running continuously background si computer slows down reaction (Available most times when old computers or configuration poor). So those who are not necessarily related to age waiting for Windows Search Service to find the desired file than can turn to an alternative solution such as application Locate32.
What is it and what do Locate32?
Locate32 is a free by which Windows You can quickly find any file stored on hard drive computer. Information about structure partitions, to folders and subfolders some are stored in a HDD DatabaseAnd Locate32 just use those databases to identify files searchable, which makes this application to have faster results than indexing files. In addition, you have the option to choose whether or not to run the application at system startup (not too resource intensive: D) or just when you need it.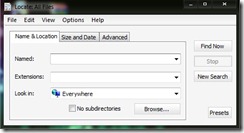 How to use Locate32?
After installing the application, the first thing you need to do is to update the databases. To do this open the app and go to Fillet > Update Databases.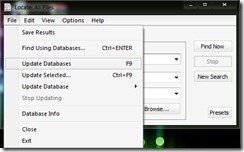 Then you can begin to search for files in the computer according to several Criteria: File name, extension, size, date it was created or modified, the date when was the last time accessed.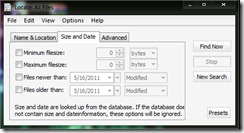 You also have the option to search for files based on text that they contained.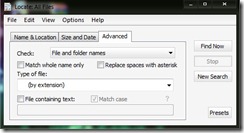 Because search for files stored on CD / DVDs, USB Sticks or External HDDsYou must first create databases for or to add to existing database:
go to Options > Settings and click on the tab Databases. To add external device to the existing database, select the database and click on Edit. In the bottom of the open window under Include, select CustomThen select storage devices you want to Adjust.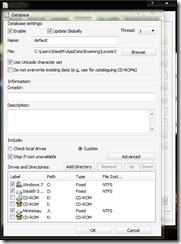 to create a new database click on New (All in tab Databases). Under Include select Custom then add storage devices and click on OK.
For the changes to take effect will be made to update the databases again.
Note: Locate32 is compatible with all versions of Windows XP, Windows Vista and Windows 7 on 32 or 64 bit.
STEALTH SETTINGS - How to Quickly find files in Windows OS
How can we quickly find files in Windows OS