In some cases we may be forced to restart OS Windows for various reasons (installation of Critical updates system, installing or uninstalling certain applications or performing system settings), And thus have to shut down applications and / or files that work in those moments.
Although in such cases most users manually close all running applications to reopen them by hand after restart, it would be much easier to use a utilities to Automate the closing and reopening of applications running in Windows, namely SmartClose.
SmartClose is a free utility with which users Windows create snapshots sale OSSo that later you can restore these snapshots using all applications that were running in system at times they (snapshots) were created.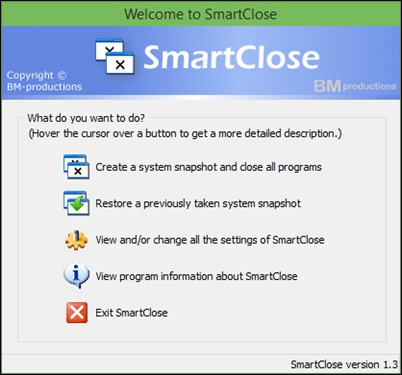 How does SmartClose?
Before making a restart the system (Or any other action that requires inchidrea all applications running in the system at the time), run SmartClose and select the first option displayed for this, namely Create a system snapshot and close all Programs; the application will display a list programs running and closing their progress and snapshot's creation.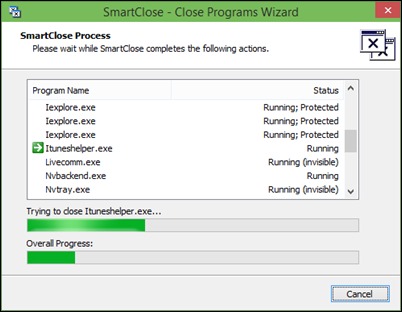 Before creating a system snapshotYou can configure settings for application by clicking on the option View and / or change all the settings of SmartClose (For example, you can choose to show or hide the list of programs closed and / or restore the application, to forcibly terminate programs which can not be closed properly or choose a custom folder to save snapshots of the system created).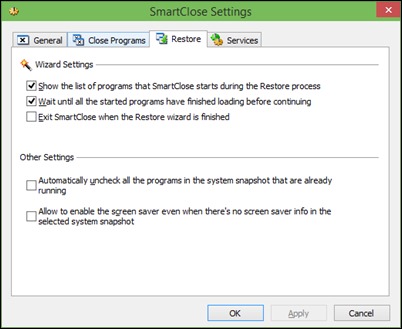 Also, users can choose to create a snapshot of the system and without stopping the running programs (it can be used later to open these programs whenever necessary), or close all active applications without creating snapshots system (before closing running applications, users can select the option to stop the services Windows).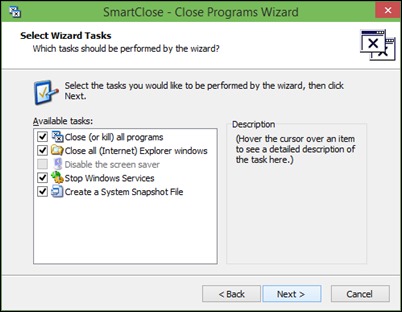 Note: Application compatible with Windows 7, windows 8 / 8.1 yes Windows 10.
STEALTH SETTINGS - How to quickly close and restore all running programs in Windows
HOW WE CAN CLOSE FAST and restaurants all running programs in Windows