By default, when lack of face computer more time and WinXP not register any activity during this period, hard drive attached system get in the way Sleep (Stop) to save energy (This setting is especially beneficial for laptopsWhen running on battery). While this is a good thing (both to save energy and to maintain the HDD to optimal performance) When back in front of the computer observe some delay in execution of orders data for a few minutes until HDD is recovering from Sleep mode. If you happen to take breaks often in front of the computer, is quite stressful as always wait HDD to start again. To solve this problem can be to increase the time period after which the HDD to enter Sleep (by default it is 20 minutes), Or disable all this feature (More exactm to entrance disable hard disk sleep system).
If your breaks lasting between half an hour and an hour and do not want to disable all off HDD when the computer enters idleYou can increase the time after which the HDD to stop when the system is used:
for laptops, click on battery icon Notifications in the area of ​​the system (systray), Then select More power options (For desktop PCs enter Control Panel> Hardware and Sound> Power Options)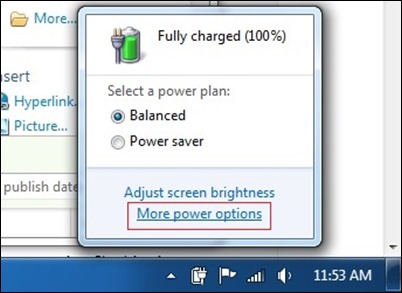 in window control Panel open (Power Options), Click on the link Change plan settings energy used in the right plan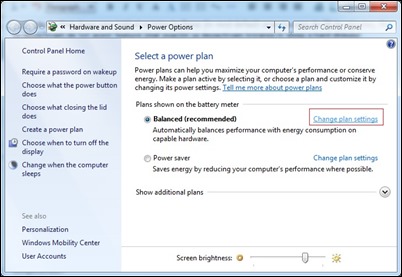 then click on Change advanced power settings
in the open window in Advanced Settings, Click on hard diskThen on Turn off hard disk after
you will see (at least in the case of laptops) two options: On battery si Plugged in
select each of the options to change time After which HDD to stop when the system is idle (E.g. 30 minutes On battery and 60 minutes Plugged in), Then click on Apply si OK
If you wish to disable all off HDD when the system enters idle (it is recommended mode On battery), As the time spent at 0 minute (Value for Never). In this way you prevent the HDD in Sleep regardless of how much you miss in front of the computer.
STEALTH SETTINGS - How to Prevent hard drive from Entering the Sleep mode in Windows
How can we prevent hard drive to enter sleep mode in Windows