When divided personal computer with many users most likely will not have control over all programs installed on the system. Most times these programs are toolbars si software fillers that come bundled with other applications or different games. Besides that toolbars can give aesthetics browser you, these and other applications installed by other users of the computer can contain malware, spyware or trojans which will endanger both system and also privacy.
To prevent the installation of unauthorized applications by other computer users provided, we recommend that you use InstallGuard.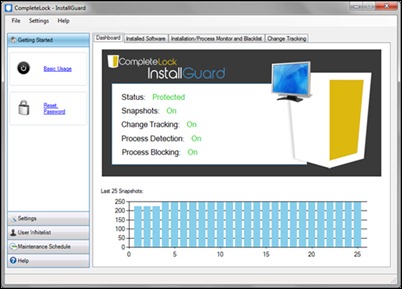 InstallGuard is a free utility for Windows which blocks the installation of new software in system and allows only authorized users install applications, thereby protecting security system and your privacy
The application runs in system tray and check all processes the system to prevent those with keyword-specific in name to run. By default, block all processes / executables containing words setup si MsiexecBut has the option to add new keywords throughout in the list of processes that you intend to run block.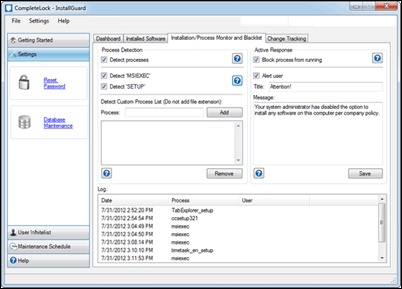 It also saves InstallGuard and logs with applications that have been blocked from installation and processes have been prevented from running, and you can set a password that utility can not be closed by any of the other users. In addition, each time prevents the installation of an application displays a InstallGuard error message.

What are the functions InstallGuard?
Monitoring installing any new software on your system Windows
blocks running unauthorized applications
keeps logs about changes to the system of installing new software and uninstalling other programs
system prevents infection malware, spyware or trojans by preventing them from running when blocking unauthorized software installation
Note: InstallGuard is still in beta, so it is possible that some applications may overcome the restrictions imposed by it. Compatible with Windows XP, Windows Vista, Windows 7 and Windows 8.
STEALTH SETTINGS - How to Block Unauthorized software installations on your PC
How can we prevent unauthorized installation of software on your computer