Whether you are the manager of a Computer Networks (A intrenet cafe, a school, a company or a public institution) and you want all desktops to display the same logo and the same wallpaper or as supplied computer access various people who like to leave their "footprint "After each use it personally if you're tired you all be changed wallpaper best would be to prevent its modification (both from Desktop Properties / Personalize and right-click on an image and selecting Set as Desktop Background) By simply Registry editing.
Attention! Before making any changes in your system registry, you should make a backup of them to avoid possible unpleasant consequences (especially changes caused erroneous).
How We restrict users to change background image / wallpaper on a PC?
open Registry Editor (type: regedit in Search site from Start Menu and give Enter, Users XP will open RunThen will key regedit and will give Enter)
navigate to key site HKEY_CURRENT_USERSoftwareMicrosoftWindowsCurrentVersionPoliciesSystem (if System does not exist in your system, create it as subkey under Policies)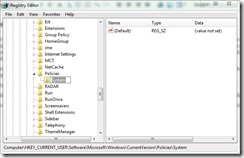 in the right pane (in System) create entry (STRING) WallpaperThen double-click on it and in the field below Value Wallpaper enter the location you want to set as your wallpaper (exact path to it)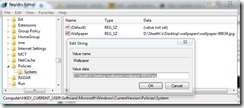 Also, depending on how you want displayed wallpaper, you can create a new STRING by name WallpaperStyle to whom you give one of the following values:
0 - Centered (The image center)
1 - Tilted (The image displayed multiple times, depending on its resolution)
2 - Streched (The image displayed full screen)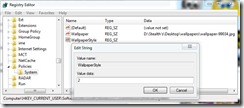 After making these changes, please restart or Log off then log in again and you will notice that the background image will not be changed using conventional methods. Success!
STEALTH SETTINGS - How to Prevent changing desktop wallpaper in Windows
How can we prevent changing wallpaper on your desktop in Windows