users Windows 8 observed most likely (if not, are the reason why you disappeared files which then was in Recycle Bin) As opposed to previous systemsIn the new Windows OS, Microsoft the disabled confirmation message for delete files. If before confirmation dialog could find enough users to be somewhat irritating (especially when you have to delete files consecutively) will definitely miss once they start to delete files by mistake, without any prevention.
How to reactivate the confirmation dialog for deleting files in Windows 8? Simple.
right click on icon Recycle Bin on Desktop
select Properties menu displayed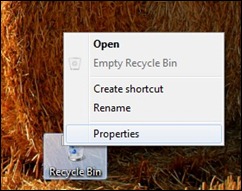 in the open window, check Display delete confirmation dialogAnd click on OK
And ready. From now on, whenever you send a file Recycle Bin (Intentionally or not) delete confirmation dialog will be displayed.
STEALTH SETTINGS - How to re-enable delete confirmation dialog in Windows 8
How can we reactivate the confirmation dialog when we delete something in Windows 8