The prices for a newly purchased Mac are not negligible. On sales sites secondhand there are many deals at attractive prices, but before you buy from there, it's good to know if the product is still in the warranty period. There are many offers that have the title "MacBook Pro NEW in box!"But that does not mean that the product is in the warranty period.
Service warranty which is otherwise very important if you encounter problems with the product. How expensive a new Mac is, the more expensive it is to repair it in an Apple authorized service. I do not even recommend you try to repair it elsewhere.
How can we find out if a Mac, iMac, MacBook is still warranted
All Apple products have a unique series. A "Serial Number" that appears both on the back of the device (very small) and on the original box, invoice and macOS operating system. So, the variants we can find a Mac series are multiple and we've talked about them in the tutorial "How to find the serial number of a Mac / MacBook (Serial Number)?"
For users who do not want to sell or buy a Mac, but want to know if their device is in the warranty period, it's best to find out about "About This Mac." Click on the Apple logo at the top left, click "About This Mac". Copy the "Serial Number" from the "Overview" tab, then click the "Services" tab and click "Check my service and support coverage status".

You agree that your device's serial number is sent to Apple.
On the web page that opens, enter the copy of the first copy and the verification code.
Click "Continue" and show your product status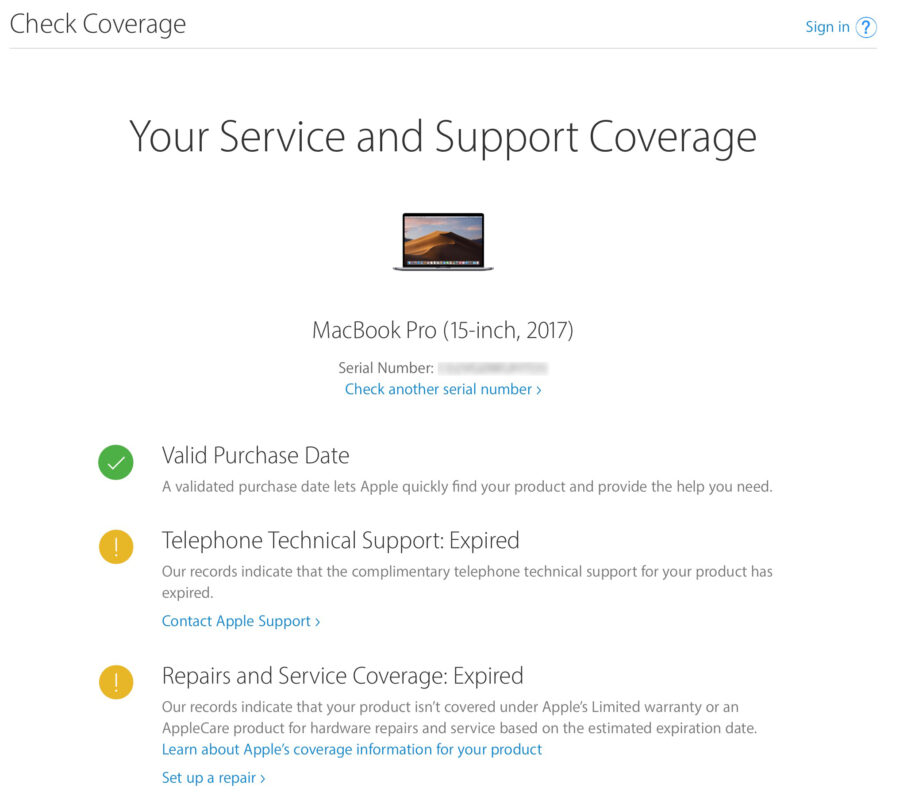 You can check service and support status for your iPhone, iPad, Apple TV, HomePod, AirPods, Mac, or any other Apple warranty product at: checkcoverage.apple.com/us/en.
How can we find out if a Mac (iMac, MacBook) is still in the AppleCare warranty period?