All computers that come with Windows DO NOT preinstall have a Recovery partition about 15 GB which contains files of system necessary reset or restore the operating system. As almost all computers today come bundled with hard disks about 500 GB storage of the 15 GB Recovery partition can be considered insignificant, but if we talk about computers instead of hard drives have SSDs de 64 respectively 128 GBUsers will definitely want to increase space available for storage removing Recovery partition.
How not recommended direct delete Recovery partitionUsers who want to increase storage space on the HDD or SSD should first create a backup of partition such a USB StickWhich then can use whenever it is needed return to factory default operating system.
How could I create a backup of the Recovery partition from Windows 8 on a USB Stick?
online at computer un USB Stick at least 16 GB (If the Recovery partition is greater than 16 GB, it is necessary to use one 32 GB USB stick). Note that USB stick will be formattedSo before you use it to create backup for partition Recovery save all your important data from it (if it contains important data)
in Start Screen enter recovery driveThen click on Settings right side of the screen and press Enter to start setup for Recovery Drive.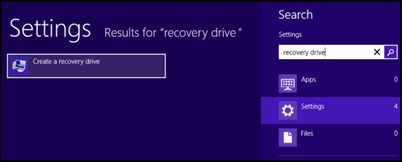 in Drive Recovery wizard, Check Copy the recovery partition from the PC to the recovery drive and click on Next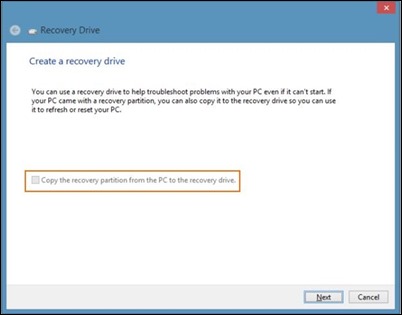 select USB stick that you want to make backupThen give again click on Next
in the window that displays the warning message Everything on the drive Will be deleted click on Create (Depending on the size of the partition Recovery, the process of creating backup can last from several minutes to several hours).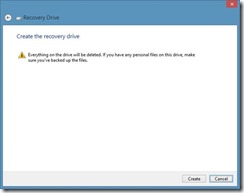 How can we delete the Recovery partition from Windows 8?
after the backup is created, you will see a message telling you that you can also delete partition Recovery to free disk space. Click on Delete the recovery partition.
will display another warning message will notify you if you delete the Recovery partition, you must Use your USB stick to backup its like whenever you want to reset or restore the operating system. Click on Delete.
Recovery after partition will be deleted, Windowsit will show you the space you have recovered After deleting it.
Good luck!
Note: This method of creating a backup for the Recovery partition and deleting that partition only works for operating systems. Windows 8!
STEALTH SETTINGS - How to properly delete the Recovety Partition in Windows 8
How and under what conditions we can delete the Recovery partition from Windows 8