One of the Feature Sites new Windows 8.1 it can Uninstall more modern applications the same time. To desktop applications (or classical) But this feature is not accessible: even if the option Uninstall is displayed and selecting multiple desktop applications, if we click on this window will be open Program and Features, Where users have to information Show manually uninstall (And all) applications no longer need.
IObit Uninstaller is a free application si portable (No installation required) that allows users Windows sa uninstall several desktop applications while. In this way users can save time when you will want to clean system applications that you no longer use and issue such a hard-disk space.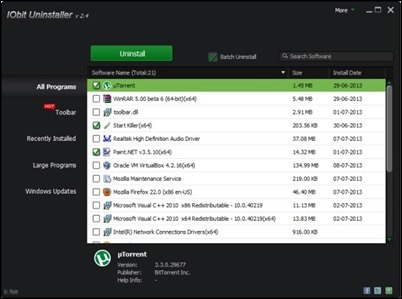 In addition, IObit Uninstaler allows users to identify and remove and toolbars installed and displayed in browsers, Most often without consent.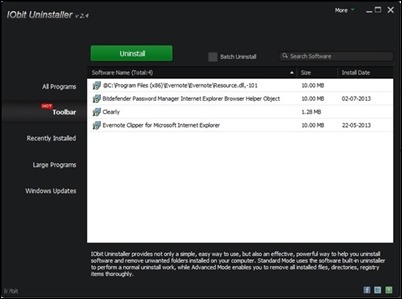 The application can be used as individual uninstallerBut clicking Batch Uninstall users can select all the applications they wish to uninstall from the system, being removed all at once, without having to stop interfering in the process. After uninstalling the application is complete, users are given the option to scaneze registrii de sistem to identify and clean any traces left by them (available only in module Advanced uninstall).
Also, IObit Uninstaller also has a feature Interestingly, namely Force Uninstall, With which users can uninstall programs that can not be uninstalled from Programs and Features (This feature can be accessed by clicking on more found in the upper right corner of the application). To force uninstall a program, Users will need to navigate to its installation folder and select installation file (If you do not know the file location can look for entering name exact thereof and clicking the button Search).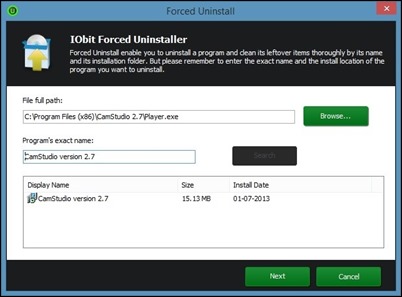 Note: Desi IObit Uninstaller poate dezinstala aproape orice aplicatie instalata in sistemele Windows, sunt unele programe care necesita interventie manuala pentru a putea fi dezinstalate (ex. Paint.net). Aplicatia este compatibila cu Windows XP, Windows Vista, Windows 7, Windows 8 si Windows 8.1.
STEALTH SETTINGS - Uninstall multiple applications simultaneously in Windows with IObit Uninstaller
Uninstall several applications simultaneously with IObit Uninstaller in Windows