Most times you have to make a backup al data and personal filesOr you need to move one large amount of information on a storage device another, we find ourselves in a position to wait a long period of time (even a few hours) to complete the operation. ExtremeCopy is a utility for Windows which significantly improves the speed of copying files (From 20% to 120% vs. Windows ExplorerDepending on the amount of files transferred, and also proved to be much faster than other popular utilities for copying, such as SuperCopier or TeraCopy) And provides some Feature Links helpful, such as the checking files that need to be moved / copied.
Another important feature is the integration options ExtremeCopy ExtremeCopy si ExtremePaste ca default copy options in Windows Explorer. I mean, after installing the application, operation Copy / Paste ExtremeCopy will be performed.

If you wish to use usefulness copy of Windows, Click on Configuration and uncheck Ace Explorer's default copier.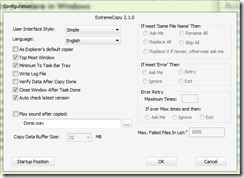 After starting the process copy / move files, it displays a dialog that informs the user about the transfer speed, status, time elapsed from the start copying si time remaining to complete the task. In addition, they are displayed and buttons Pause si Skip for better management if large data transfers.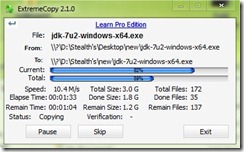 ExtremeCopy is available two versions: a standard, freeAnd one pro, at the price $ 19.95 (Paid version is available as 30 day free trial).
In addition to standard version Pro ExtremeCopy has a simple interfaceWith two partitions: one for source folders and one for destination folder. To add one or more folders you want to copy / move files, click the button next to Source File / FolderAnd to select the destination folder click on the button next to Destination Folder. Any addition wrong folder can be easily removed by pressing removeAnd if there are several wrong entries in the list of folders, you can use the Clear to clean up.
To check if the data / files were copied / transferred correctly, check before you start copying option Verify after copy finished on. Also, for more options, such as option import / export information from a file, Click the button Sea.
To configuration change utility (interface, language, notifications etc) go to Tool> Configuration.
Those interested can visit ExtremeCopy Pro version official website the application.
Note: The application is compatible with Windows XP, Windows Vista, Windows 7 and Windows 8
STEALTH SETTINGS - ExtremeCopy: The fastest utility to copy / move files and folders in Windows
ExtremeCopy: The fastest utility to copy / move files and folders in Windows