If you need to create a list cu the names of all files of a particular folder Windows, Directory File List This is exactly what you need.

Directory File List is a free application allowing users to Quickly generate lists which contain the file names of any directory Windows. It also has the option to list all the files located in subfolders contained in a specific folder. The application not only lists the file names in a folder, but can list attributes (Up to 250 for a single file) of those files, depending on the specifications made (ticked) user. Lists can be saved in 3 formats different, namely TXT, CSV si TSV.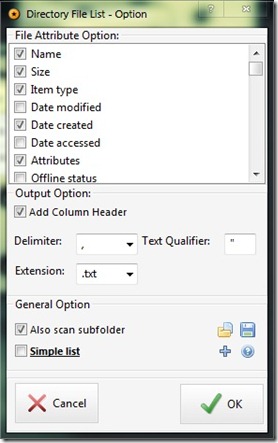 Interface Directory File The list is extremely simple, but very customizableEasy to understand and use of any type of user Windows. For generate a list of file names in a folder It is enough to write folder path to namely in the field of law TargetAnd in the field of law output type the path to the folder where you want to be saved list (can be the same folder whose files you want to list them). To select which attributes to be listed with the file name, click on Options then check the restrictive parameters.
Note: The application does not require installation (it is portable) and is compatible with all versions Windows XP, Windows Sight yes Windows 7.
STEALTH SETTINGS - Generate lists of files in any Windows folder with Directory File List
Generate lists of file names in any folder Windows with Directory File List