Users installing an operating system Microsoft Windows 10, have the unpleasant surprise to find that they can not run video files what they need video codecCPC HEVC.
Microsoft has withdrawn support for this video codec from both its core versions Windows 10 and from the 1709 update of Windows 10 Creators Fall Update.
Users who install themselves Windows 10 for the first time, they will be greeted by a black screen (black screen) Or a error message when they try to give play to a video file which require the HEVC extension. This is true both for specific video playback applications and for Microsoft's official application. Movies & TV.
Older people, who have already installed Fall Creators Update, will not be affected by this change, the codec remaining installed on the operating system even if it was restricted to new users.
To solve this problem, Microsoft has released a separate application that allows you to run video files that require the HEVC codec.
HEVC Video Extension, is available in Microsoft Store and can be installed for free by all users of Windows 10. All you have to do is search for "HEVC Video Exension" and install it.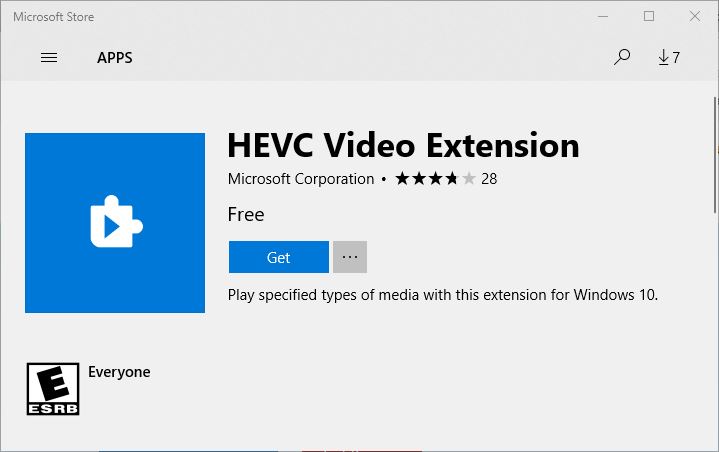 After installation, the application will allow system-level running for video content that requires the HEVC codec. that involves the 4K video feeds si Ultra HD will work after installation.
The only restriction imposed by HEVC Video Extension is on hardware. Microsoft has published a list of compatible components for this extension. It's part of it top Intel i7 processors (Kaby Lake, Kaby Lake Refresh, Coffee Lake)and graphics processing boards performance. Graphic boards AMD RX 400, RX 500 si RX Vega 56/64, Nvidia GeForce GTX 1000 , GTX 950 and 960 series.
It is unclear why Microsoft decided to withdraw the codec HEVC from the systems Windows 10, but this decision affected a very large number of users. Especially considering that this codec is necessary for using the Netflix service and others like it that deliver high quality video streaming.
High Efficiency Video Coding (HEVC) is a video compression standard, also known as H.265 or MPEG-H Part 2, being one of the successors of the old AVC (H.264 or MPEG-4 Part 10).
HEVC offers a double compression rate compared to AVC, but keeping the image quality or even a better quality. This standard supports resolutions up to 8192 × 4320 or 8K UHD.
With the launch macOS High Sierra and iOS 11, Apple introduced this standard by default pe Mac, iPhone, iPad and iPod touch, thus providing better image quality with less hard disk space.