Every professional working with multimedia files prefer to use at least two displays. Unfortunately, there are not many solutions dual-display that fit on any desktop, providing many jobs insufficient space to accommodate two monitors. Behold Philips He has found an answer for those who encounter such problems, launching model Brilliance 19DP6QJNSWhich offers two monitors on a single stand.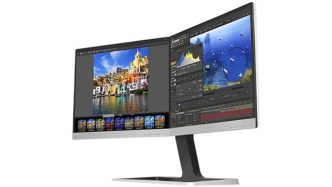 Of course, the solution Philips require some compromises. First, you need to ensure that two-inch displays with aspect ratio 19 5: 4 enough. Then one must consider that each of them offers no resolution x 1280 1024 impressive. Although together they offer a resolution close to that of a single QHD display and a diagonal of approximately 32 "probably the difference between model Two-in-One and a larger screen and higher resolution is not so high.
The only thing really attractive that you get from the front of two monitors Philips is one greatest thing separating the two spaces, which can help create a more orderly way of working. The fact that the two screens are connected by one leg supportive determine saving space on the desk, which may or may not be a problem. Fortunately, the two panels are of high quality rendering candelas brightness 250 / square meter and a contrast ratio of 20.000.000: 1.
Besides the two monitors, solution dual-monitor 19DP6QJNS integrates two USB ports 2.0 (One on each monitor) stereo speakers si a webcam. Ports are divided between the two monitors. one integrates a VGA socket and one DisplayPort, While the other provides HDMI (With MHL support) and VGA. The cost of 499 dollars may seem pretty steep, but this is not a monitor for everyone. Professionals are limited by space, but they need multiple displays in order to facilitate the work will surely appreciate the existence of Philips monitors, especially that come with a shank own, with the possibility of tilting the 22,5 degrees at the base and lifting the 10 cm.
Philips Two-in-One, a dual-monitor for limited space professionals